Race Date: Sunday 7th October 2018
Report by: Steve Canning
Scott Liddle has already provided a report for the 2018 Chester Marathon, this is where you will find the official results, however Steve Canning has also provided insight into his journey to an impressive time at Chester, here's his story…
If I only ever write one run report, then this will be it. Sorry about the length, but it describes a long journey, and maybe someone will learn something from my experiences that will help them achieve their goal in the future. What I learnt was that perseverance definitely pays off, and it's good to be stubborn (sometimes!).
I ran the Chester marathon on 7th October, and finally crossed the line inside my long dreamt of target time of sub 2:45. This is more of a reflection back over the last 2 and a half years, and shows that if you set yourself a goal, and never give up, one day it might happen….
A long long time ago, my marathon journey began. It was 2002 and I was happy with a 3:49 finish at the end of my student days. That was the start of running for me, of the variety that didn't involve chasing a ball round a muddy pitch. It's been a pretty consistent part of my life since, in various guises. Further marathons followed, and I was ecstatic when I achieved the London Good for age qualifying time of 3:10, then a 2:59 finish in Edinburgh following that. My next goal was to try and finish a marathon an hour quicker than my first ever one. The training picked up, and I became a bit more serious. I achieved my goal and crossed the line in Manchester 2016 in 2:45:29. I surprised myself with that one. It was quicker than I had hoped for at the time, so I wasn't too disappointed to be only 29 seconds over the 2:45 mark.
Surely with a bit more training, and the general trend of getting quicker each time, I would get under 2:45 next time round. Well, this is when things started to go a bit awry. I entered York in Autumn 2016, but struggled with a hip injury during training, still managing to run it, but in a time of 2:56. Next was another trip to London (Good for Age) in 2017 and after a crowded start and suffering a cold I crossed the line in 2:49. Fast forward another year; London 2018 was going to be the time I finally cracked it. Training went perfectly, despite long cold days traipsing up & down the Monsal trail with ice blocks for hands. I felt on fine form as the taper started. But somehow the long hard winter turned into a heatwave overnight, and London warmed up to a balmy 25 degrees on the big day. Surely this one minor factor wasn't going to deter me. My stubbornness kicked in and I set off to plan. After 9 miles I checked my heart rate, and realised my body was having to work overtime to keep me cool & moving fast. I reined it in, realising that 26.2 miles in this heat needed to be a bit more conservative. Water was taken on at every mile, and I clocked a respectable 2:53 for the day. Oh well, all this training didn't have to be in vein. Onto the next one: Milton Keynes was 2 weeks later. Let's do that I thought. Turns out MK on a Spring Bank holiday is hotter than London! I stumbled round in 3:21 in 26 degrees heat with tired London legs; not an easy day out.
Most sane people might have called it a day by now, after four failed attempts. Maybe it was just not going to be. Undeterred, I looked forward in the calendar, and decided that Chester in the Autumn sounded like a good trip. It saves on having to train in the cold dark winter months. I had taken it easy from May, and it felt like it took about 7 weeks to recover from my early 2018 endeavours. I eased back into proper running, had a holiday and realised Chester was soon approaching. It was going to have to be a short and hard training block. After returning from holiday in mid-August I set out to run every day, only having 2 days off before the taper. I had some quality run sessions, particularly a hard 10-mile group run around Attercliffe / Kelham island each Tuesday evening, Park runs on Saturday and a gradually increasing long run on Sundays. I wasn't clocking quite as many weekly miles as I had earlier in the year, but I felt like the quality of training was better, and I was still managing to get about 60 miles a week in.
October rolled round, and the taper began. I do a 10-day taper, keeping a bit of mileage, but dropping the intensity down. I somehow managed to avoid the family bugs and viruses that were being thrown at me left, right and centre, and had no injury to speak of (I'll credit my weekly S&C class for that one!). Even the weather forecast was on my side this time.
Race day started well. I woke well rested and feeling fresh. We arrived at Chester racecourse, where the event is based, on a nice crisp morning. Apart from some long queues to get into the car park it was a great venue to host the marathon. The car parking was right next to the toilets (loads of them) which was right next to the start line.
I set off with Mike Sprot (Hallamshire Harriers), who I had done quite a lot of my training with. Our target pace was 6:17 per mile, but the idea was to keep a little below that to begin with and bank a few seconds. Previously I might have gone out at 6:00min/mile pace, thinking that banking more time at the start was a good idea. Our thoughts this time were to be a little more reserved at the start. We went through the first few miles in 6:18 (uphill), 6:00 (downhill), 6:10, 6:16, 6:00, 6:15, 6:13, 6:12, 6:06, 6:11. I felt comfortable, and was in a decent group of 6 runners. I keep an eye on my heart rate, and found it was up to its usual tricks of spiking up after 3 miles. When it hits 168bpm with only 4 miles clocked I start to wonder how I can keep it up for 22 more. For the next few miles it fluctuated a bit, finally settling around the mid-high 160's, but I felt comfortable, so was happy to keep to pace. I was careful not to go any faster and risk a further spike though.
For the previous 2 London marathons I had gone through half way in 1:23, knowing that my chances of a negative split and a 2:45 were very slim. Half way had to be hit in a slightly better time today. It was nice to pass the mark in 1:21:30, feeling reasonable, and with time on my side. Being an England & British marathon championship event there were a lot of England vests around, making it quite a competitive field. After half way, I knew this was the important part, and where it can go wrong. Having paced the first half sensibly, Mike and I still felt good, and were keeping the splits about even. We went from mile 10 to 20 in 6:15, 6:13, 6:19, 6:10, 6:09, 6:15, 6:16, 6:10, 6:05, 6:08. I never expect the last 5 miles of a marathon to be much fun, but my hope is not to start feeling sluggish and tired too early. I managed to pick up a few places, and at mile 20 I still felt relatively ok. It was nice to be on the road back to Chester.
Things started to feel harder from about mile 23. There was a gradual rise up a hill, then coming back into the City walls there was a punchy short climb. This caused my heart rate to elevate (we're now talking ~180bpm), and the effort increased. This is where the head needs to stay positive. I was reiterating in my mind that what I felt was what I had expected. I could deal with it. I had trained for it. I couldn't give up. I couldn't slow down. It was now or never.
Despite feeling like I was decelerating I managed the last 6 miles in splits of 6:11, 6:13, 6:25, 6:17, 6:19 & 6:18. Once you're back in the city you wind down by the riverside, over some cobbles, up a little hill, and then back into the racecourse to finish on the grassy racetrack. In my delirium I knew I was still good for time. I just had to muster what energy I had left to get to that darn finish line and as I did I stopped the clock in 2:43:51. I was over the moon. I was ecstatic. My dream and long-term goal had been achieved. I could finally draw a line under this sub 2:45 goal. It is such an epic feeling, and even more so knowing the miles, dedication & effort it has taken to get here. Maybe I can finally hang up my (marathon) run shoes and be content with this as my fastest ever time. Or maybe; I could have one more effort from the Championship entry at London?? It would be rude not to wouldn't it?!
My marathon nuggets:
I ran in Brooks Launch trainers, which feel fast, but cushioned enough to help tired legs towards the end of the marathon
Race morning started with my usual porridge and a banana, and a Beet-It shot to boost my nitrates. A good sized meal of Chicken & pasta at 3pm the day before works well
I had a High-5 gel after 45 minutes, a High-5 caffeine isogel after 1:30 and another High-5 caffeine isogel after 2:15
My longest training run was 23 miles on the Monsal trail, 2 weeks before the marathon
Despite being a Physio, I hardly stretch and only occasionally foam roll. I tend to react to how my body feels. I do a weekly strength & conditioning class and had no injury to speak of this year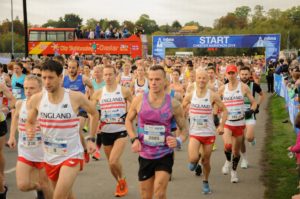 He's in there somewhere. The start of the Chester Marathon 2018