Race Date: Saturday 30th December 2017
Race report by Jeni Harvey
In that pyjama-wearing, cheese-eating, not-quite-sure-what-day-it-is time between Christmas and New Year, a muddy trail race is exactly what's needed to shock lazy runners back into life. So, feeling heavy and lethargic after too much Christmas indulgence over the preceding days, Alasdair Menmuir and I found ourselves on the start line in Northowram, Halifax, for the Coley Canter, ready for an eight-mile mud slide around some of West Yorkshire's finest hills.
What had been a pretty muddy course last year was even more so this year, due to the inches of snow that had melted, turning the fields into squelching pools. And, barely a mile in, scores of us found ourselves standing in ankle-deep melted snow and mud, queuing to get over stiles. But that's exactly why it was so much fun. The course took us 128 runners up hills, down valleys, through woods and across what last year was definitely a stream, but this year was a fast-flowing muddy river. By about half way through, I realised any notion of running a decent time was completely out of the window. I really should've run faster than last year, but ended up getting round slightly slower, which I'm blaming on the mud. And that "river."
Time was hardly important, though. What was important was how much fun it was, and the sense of camaraderie as we slipped and slid down muddy banks, helped each other over stiles, and chatted to the friendly marshals, who spent their Saturday morning standing in the pouring rain to ensure the race passed off without a hitch. As I finished, shivering and with sleet lashing my muddy, blue-with-cold legs, the soup at the end couldn't have been more welcome. And it was washed down with a pint of cider (it was Christmas, after all), served up in the Northowram Pumas' cosy clubhouse.
Out of the 128 runners, there were two hardy Striders. Al finished 10th, in 1:07:16, and I was 55th in 1:24:03. The race was won by Owen Beilby (unattached) in 56:26, while the first woman home was Gayle Sugden of Calder Valley in 1:08:33.
At only £6 for affiliated runners, the Coley Canter is a real bargain, and well worth a festive trip to sunny West Yorkshire.
| | | | |
| --- | --- | --- | --- |
| Pos | Name | Cat | Time |
| 10 | Alasdair Menmuir | M35 | 1:07:16 |
| 55 | Jeni Harvey | F35 | 1:24:03 |
Full results can be found here.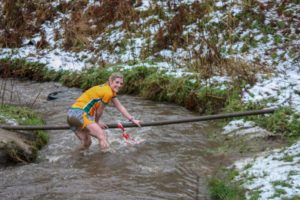 Jeni should be concentrating on getting over "that" river, not posing for the camera!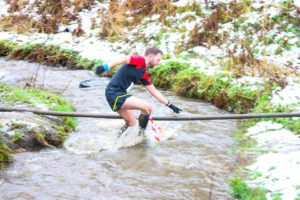 Alasdair shows how it's done.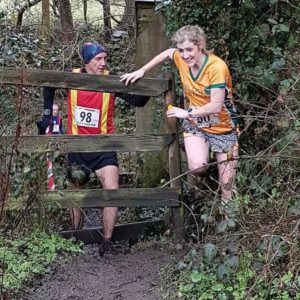 Queuing in the mud to hurdle stiles looks like fun!