Race Date: Saturday 24th March 2018
Saturday morning brought ideal running conditions against a stunning background of Coniston with its Lake, mountains and trees. Undulating and uneven would be a fair assessment of the course and road surface, but that is a small price to pay for such a scenic and friendly race.
My in-laws house is on the route, with my mother-in-law and wife heading up security and my father-in-law in the sweeper truck. So it was about time I entered this race.
The first half of the race was strong for me personally, running a record pace for 15km (according to Strava). Meeting a couple gentlemen along the way and running 5 miles with them whilst chatting.
The second half was all up hill and any energy in my legs had seeped away. Thoughts of cake at the end spurred me on and despite double calf cramp, I managed a sprint finish over the line in a respectable 1:48.
I made my way into the school where cakes had been baked to raise money for local causes, which I duly obliged and got a massive slab of lemon sponge for my troubles.
5/5 for location. 4/5 difficulty. You'd go for a good time, not a fast time.
The race was won by Sam Stead of Keswick in 1.14.40. First woman home was Eleanor Fowler on Nuneaton in 1.29.14
Striders Results:
| | | | |
| --- | --- | --- | --- |
| Pos | Name | Cat | Time |
| 141 | Ian Stinson | MV 45 | 1.42.54 |
| 211 | Adam Newell | M Sen | 1.48.04 |
| 571 | Emma Wiiliams | F Sen | 2.05.44 |
Full Results: here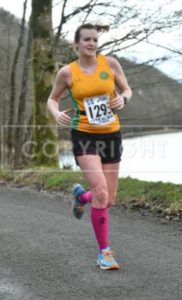 Photo courtesy of Mick Hall photos