Race Date: Sunday 04 February 2018
Race report by Gill Pearson
The Daytona Beach 3.1 mile Lap the Track race is part of the Daytona Beach half marathon event, allowing competitors to race on one of the most unique courses in the running world. The event is staged at the World Center of Racing, taking runners around the historic flat asphalt surface of Daytona International Speedway's racing apron to racing glory, and to prove that Striders do indeed get everywhere, our very own Gill Pearson was there to represent the Green and Gold. Here's Gill's take on the race:
"Found this race online as we already had holiday booked in the area. There was an option of a half marathon or 5k and being a new runner thought the 5 k was a better bet…. perhaps the half marathon next year. The other big draw was the location, around the inside track of the Daytona International Speedway. Went to pick up race number and recce the parking etc. the day before, very straightforward.
After a cool week in Daytona the race day was very warm, 24 degrees, recent Monday sessions from Heeley had not prepared me for running in this heat!!  The 5k started after the half marathon so managed to watch the later runners returning.
I decided to try and keep up with the 10mins/mile pacer which I managed for about 2/3 of the time, took a drink half way round but running and drinking are beyond me so after spilling most of it gave up. With the finish line in site the route  took a detour outside the stadium and this section seemed to take forever, however soon back into the stadium for a straight final run and a medal, PB and 5th in my age group made for a very satisfying run. Would definitely do this again next year if holiday weeks permit, maybe even try for half marathon."
First home was Doug Wall, of Viera, Florida, in a time of 17:49 and first lady was Kelly Brasol of Palm Coast in 19:55. Gill finished a very respectable 5th out of 61 in her age group with a time of 32:49. Well done Gill!
| | | | |
| --- | --- | --- | --- |
| Pos | Name | Cat | Time |
| 286 | Gill Pearson | F60 | 32:49 |
Full results can be found here.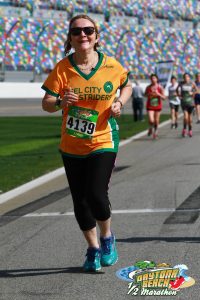 If you can't smile when you're on holiday in warm weather wearing your Striders top then when can you smile?