Race date: Saturday 18 August, 2018
Race reports by Stuart and Ben Jones
Ben's report
Jones Sr and son took a trip up North to run the Sabic Eston Nab 10k (although more like 11) Challenge on Saturday 18 August. Setting off from the town of Eston on the edge of Teeside, the race offered the choice of a 5k or 10k route both taking in the ascent of the historic 'Eston Nab'. The organisers delivered on their promise of beautiful, if challenging, trails (over 1000ft of elevation including a calf-burning climb straight off the bat and a thunderous descent back into town) and panoramic views over the Cleveland hills and industrial Teeside. Windy conditions on the day helped waft away the usual Teeside smog. Ben managed to finish in second place with Stuart making good use of a new pair of shiny Salomons to be the 25th finisher of 172. Second place was probably a good result for Ben in order to ward off any accusations of preferential treatment given that his grandparents are long-standing members of Redcar and Cleveland Council. Friend of the striders, Oliver finished in seventh to complete a succesful morning for the Joneses.
Stuart's report
Let's start with the geography: my father ex-law, who is a Councillor with Redcar and Cleveland Council, will tell people he lives 'just north of York'. Eston Nab crowns one of the hills overlooking the Tees valley which 'boasts' Middlesbrough, Hartlepool, Tees-port, Billingham, Stockton on Tees and lots of other places you couldn't pin-point on a map (even if it was a map of Teesside). The 'just North of York' line gives a shared bearing, but also tells you what is just to the South; the beautiful sweeping expanse of the Vale of York with the North York Moors to the East and Yorkshire Dales on the West.
Geologically interesting: the hills have been mined for ironstone, gypsum, grit salt, potash and coal, and are part of the reason for the early, local, development of steel industries.
Recreation: the local Parkrun, Flatts Lane, recently featured on Parkrun Newsletter's list of five Parkruns with the greatest elevation gain. The Eston hills used to have an artificial ski slope. Redcar, on the coast just round the corner, has a 'vertical pier'.
So there's a hill, and the race goes up it, twice. There are two drop-dead-gorgeous views, one North over the industry and conurbation of Teesside and one South over the rural idyll.
Within half a kilometre we were off road and climbing. The second had an average gradient of +12.5%, real hands on knees stuff. Then it was sweeping down wide tracks and trails for a couple more. The leaders, I'm told, got held up by the classic 'bull in field' problem, but adopted a proper British politeness attitude and staggered their restart once safe to proceed. Back in the field, I simply followed on.
I had difficulty with three sections:
The field pitted with cow hoof-prints that had formed hard craters,
The narrow, twisting path through a wood where we were continually scratched and stung, and I slipped over the side of a railway-sleeper bridge, and
The new 'no cups water supply' policy – I won't carry a bottle on a roughly 10k race.
I took a fall (on a flat section, obviously) over a tree root, and was helped to my feet by the runner who eventually beat me by just one place: runners are nice, aren't they? Mucky arms and leg, and I only felt pain the next day with bruises from hands to shoulders.
Then it was back to the top of the Nab again. The recent addition to the skyline, alongside the stone tower, is a flagpole and flag in memory of Fusilier Lee Rigby. And then there was the coming down: imagine a combination of storm drain and mountain bike track. Now run down it.
A very nice finish led down a straight road to an inflated archway, so we all looked good at a decent speed / thought we looked good at what we imagined to be a decent speed.
Advertised as 10k it came out as nearer 11, but absolutely not a problem: it was great fun. There were stalls and activities at the start / finish including a traditional coconut shy and a candyfloss machine.
And how did we get on?
Ben Jones, 2nd place, 48:47 (picking up a nice bit of glass 'silverware')
(Oli Jones, recently seen running at Woodburn Road on behalf of S10, 7th place, 51:38)
Stuart Jones, 25th place, 58:10
172 finishers, in a time range from 48:09 to 2:20:37 (so anyone not running Fell, because they fear they will be hopeless, take note).
First male: Josh Abrook, North York Moors AC in 48:09
First female: Lucy Verrill, Holmfirth Harriers AC in 58:50
Striders results
| | | | |
| --- | --- | --- | --- |
| Pos | Name | Cat | Time |
| 2 | Ben Jones | M | 48:47 |
| 25 | Stuart Jones | MV50 | 58:10 |
Full results at: https://www.hardmoors110.org.uk/2018-race-results/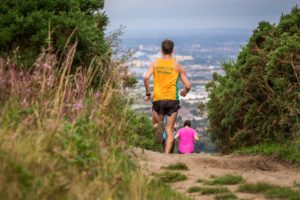 Ben Jones, on the descent home, overtaking the 5k field ahead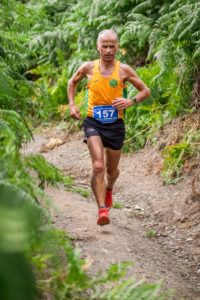 Stuart Jones enjoying the downhill section (sporting a new vest but still missing that carpet)