Race Date: 21st January 2018
Report by Emma Brear
With my first marathon coming up in May this year, I was keen to get a flat half done early in 2018. Four Villages Half Marathon in Helsby, Cheshire fitted the bill and was to be my first race as a returning Strider. It turned out to be a bit of a different sort of race in the end however, but taught me a few tips on how to cope with a race in bitterly cold conditions, and how not to get hypothermia!
The race was very well organised with plenty of car parking and a shuttle bus to the race village from the car park furthest away. The shuttle buses came every few minutes so we didn't have to wait that long, and upon getting to the race start we splashed out on a £1.00 coffee in the club house.
The day before the race we checked the forecast and prepared for heavy rain. Not wanting to be bothered by wet layers we kept our kit and provisions to the bare essentials, this proved to be a mistake.
Unfortunately, just before the start of the race the weather very quickly changed from rain to sleet and the wind really picked up. I made the decision to race in my windproof jacket and to wear my hat and gloves, my partner hadn't brought any such clothes and had no option but to race in shorts and a dri-fit t-shirt. As we stood shivering on the start line with 2,022 other runners we learned that this was typical weather for the race. I don't remember that fact appearing much on the website!
So, already freezing and not really fancying a 13.1 mile snowy run we set out in torrential rain and sleet for the first 6 miles (which are a fast 6 miles) then we had to climb gently uphill into the wind before a very fast downhill and flat route back to the finish.
Being a much faster runner than me, my partner had promised to see me at the finish with the extra layers we'd stored in our bag. After hunting around for him for a while and making my way back into the club house I was greeted by a marshall who told me he had collapsed during the race and was waiting for the paramedics to check him over. It turns out that he had got soaked then had got colder and colder and collapsed on a tight bend through some spectators/marshalls and had to be rushed straight back to the start as he was in the intermediate stages of hypothermia being unable to walk in a straight line, stand or talk properly. It took some time for him to warm up enough to actually start shivering never mind to be able to talk properly. A rather dramatic way to get his first ever DNF!
We learnt a lot from the experience and the paramedics offered some useful advice —
Prepare for unpredictable weather changes and pack extra layers that you can race in, such as a hat and gloves and so you have something warm and dry to put on afterwards.Prepare for unpredictable weather changes and pack extra layers that you can race in, such as a hat and gloves and so you have something warm and dry to put on afterwards.
Because we had left the house very early that morning to travel almost 2 hours to Helsby we had not eaten for some time by the time the race started. A couple of gels before the race would have given us a lot more energy during the race as it takes energy not only to run fast but to keep yourself warm.
The paramedics informed us that most people don't use space blankets correctly as all they do is reflect body heat back to the body, simply putting one around you after a race is not going to do that much. The priority is get more layers on then wrap the blanket around you.
2024 runners took part, including two Striders, with Ben Fish of Blackburn Harriers & AC taking the win in 1:09:08 and first lady, Gemma Connolly of St Helens Sutton AC in 1:19:39.
| | | | |
| --- | --- | --- | --- |
| Pos | Name | Cat | Time |
| 724 | Emma Brear | FSEN | 1.50.50 |
| 1513 | Caroline Woods-Peel | FV40 | 2.30.43 |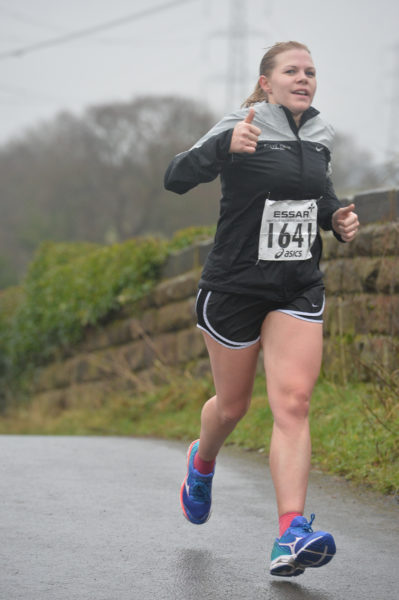 Full results available here.