Race Date: Saturday 1st December 2018
Race Report by: Fiona Tweedie
The Foxtrail Nocturnal ultra is a 6-hour timed event (4pm-10pm) on a 5k trail loop, just west of Dunbar in East Lothian.
This event had solo and team (up to 3 people) categories; all of my friends were in relay teams and I confess to feeling a little smug (or was it terrified?) as I queued up in the "solo registration" queue. 4pm came, and we all set off into the gathering darkness. I'd hoped my eyes would acclimatise, but I had my head torch switched on within about 15 minutes.
The loop went through a variety of trails – some narrow forest paths, some wider farm tracks, a bit by the beach, only two hills of any significance, and the "rave barn" in the stables where haybales had been stacked to make you run around to disco music and flashing lights. It made for some light relief on the loop! There was also a LOT of mud – not as deep as the Wooler trail marathon three weeks before, but more than enough! It has been raining here all week, fortunately there was only a little light rain for us on the night. We learned which way to go around which mud patches to avoid getting totally stuck.
For me, disaster struck 12k in at the third visit to the rave barn as I caught a raised bit of cobble and found myself doing a lovely Superman impression on to the one bit of stone cobbles in the whole course. Split knees in my leggings, skinned knees and a bruised thumb as well as scratched glasses, but a couple of minutes to recover and I was off again – I wasn't going to be put off by a few bruises! I dug the wee first-aid kit out of my ultra vest, got myself cleaned up and some Savlon on the grazes. I did get my thumb checked out by the first-aiders at the race HQ next time I got there though.
This was my first event with laps, and between that and being in the dark, it really seemed to mess with my head. By lap 6 or so, I couldn't remember where I was on the course – had I passed a landmark on this lap, or was it the one before? It didn't help that really speedy relay runners (and a few ultra ones) kept zipping past – the winning men's team completed 17 laps – 85km in the 6 hours. The field thinned out in the last couple of hours as the ultra people kept going while many relay teams had called it a day. The end of the race was marked by a fireworks display, so we all knew we were on our last lap. If you'd just gone through the start/finish line you could continue your lap, otherwise you had to finish.
I hadn't prepared enough when I arrived – the main area was for relay people to wait for their team member who was running, and my bag with gels etc was in the (separate) bag drop area. I ended up eating jelly babies, bits of flapjack and banana from the food station, but it wasn't ideal. I think I'd assumed that as I was passing this place every 5k, I'd just stop and hunt for my stuff, but it didn't really happen. I ought to have prepared as carefully as I would for a point-to-point marathon. Lesson to be learned for next time!
The support was great – all the runners who zipped past me made encouraging comments – and everyone was cheering at the changeover area. Coming in as a solo competitor at the end was great – lots and lots of cheering! There were refreshments (and beer) at the end, as well as a nice wooden medal (mine has a tartan ribbon to distinguish it from the relay ones which had plain blue ribbons), in return for handing back in our timing chips.
The race was well-organised and marshalled, with good facilities at the changeover point. It was an hour from home though, so finishing at about 10:30pm, then getting sorted out and back to the car park and finally home after a road closure on the City of Edinburgh bypass meant for quite a late night. I'm not sure that running in the dark is my favourite – my eyesight isn't great at the best of times, but it was good for an end-of-season long run. I also enjoyed seeing the speedy people who are normally way WAY ahead of me. While Strava had me at 40.7km on the loops, I kept it running on the way back to the car park, and once around it, so that it would go up to 42.2 for the magic marathon distance. I knocked an hour off my previous marathon time (from three weeks ago at Wooler) and also recorded my second fastest 30k time.
Winners: Female (and overall) – Nicola Duncan 14 laps (70km) in 5:58; Male – Matthew Curry 14 laps in 6:04. Striders result below:
| | | | |
| --- | --- | --- | --- |
| Pos | Name | Category | Laps/Time |
| 36 | Fiona Tweedie | F40 | 8 laps (40km) in 06:21 |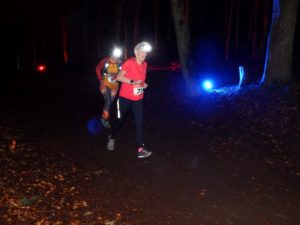 Fiona (#64) bears down on a relay runner during one of her 8 laps of the course.