Race Date: Sunday 9 December 2018
The Great Sprout Scuttle is organised by Curly's Athletes and takes place each December at the Northern Racing College, Rossington Hall, near Doncaster. A unique sprout-themed medal and the opportunity to fund-raise for the local RSPCA are the main attractions as well as amazing scenery and a variety of running surfaces (including a race course). Two flavours of race are available; 5k and 10k.
10k winner for 2018 was James Osbourne of Doncaster AC in a time of 39:41 and first lady was Christine Keyworth of Fetch Everyone in a time of 48:52. Three Striders took on the 10k course and their results are below.
In the 5k race, winner was Joe Gammell (unattached) in 20:00 and first lady was Jemma Muir (also unattached) in a time of 23:37. Not far behind, however, in a time of 24:31 was our very own Cara Hanson, taking the prize for second lady.
| | | | |
| --- | --- | --- | --- |
| Pos | Name | Category | Time |
| 96 | Peter Brash | M50 | 01:00:58 |
| 117 | Caroline Brash | F40 | 01:03:24 |
| 118 | Rosie Smith | FSEN | 01:03:27 |
| | | | |
| --- | --- | --- | --- |
| Pos | Name | Category | Time |
| 8 | Cara Hanson | F35 | 24:31 |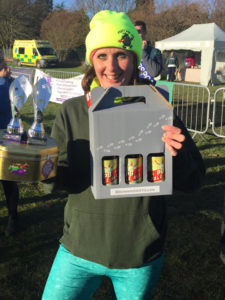 Cara proudly displaying her well deserved prizes