Race Date: 8th April 2018
Race Report by Mark Gray
Firstly, I'm sorry this is a long report! It goes into a fair bit of detail because I like to have my own record of the race. I also got a bit carried away, because I've enjoyed recounting the story of how several years of blood, sweat and tears all finally concluded with a happy outcome in Manchester on Sunday.
It's odd that we runners become so obsessed with arbitrary time targets. I'd previously run 2:40.15 for a marathon, so should it really matter whether or not I can manage to run 16 seconds faster, in order to run under 2 hours 40 minutes?? Well, the answer is YES!!! It probably doesn't matter for anyone else, but for some odd reason it matters A LOT to me to have completed a marathon in a time of two hours and thirty something minutes….. I am very competitive, with myself as much as with other people, and I think I have seen it as a minimum standard that I should be capable of achieving. Once I began to get close to this target, an obsession grew!!!
In the last few years I've experienced some great highs, as I love progressing through marathon training blocks, and the feeling of euphoria when I have nailed a key session and felt myself getting stronger and faster. I've also experienced some big lows, through a combination of near misses, injuries and failures when I know I have been ready to run faster. This was to be my 3rd serious attempt at a sub-2 hour 40 minute marathon. I'd come close at London in 2016, missing out by 15 seconds. Then last year at Frankfurt I felt I was in the best shape I'd ever been in, but it all went wrong when I found myself stuck behind 1500 runners at the start.
But this time, everything did finally come together for me, and the benefits of those many hard, long and lonely training sessions allowed me to dig deeper than I thought was possible in order to achieve my goal.
Training
Training for Manchester 2018 had been solid. I don't think my confidence was as high as it was for Frankfurt, when I'd been knocking out sub-6 minute miles with ease on long training runs. But my training had been very consistent. Due to my weekly commuting to Brighton I had not managed any 70+ mile weeks, but I had consistently produced 60+ miles per week for much of the 13 week training block. I'd had some very good long runs with marathon pace in them, and the usual regular 80-90 minute threshold runs. I firmly believe that consistent training and in particular regularly delivering on the key sessions is the most important goal when marathon training.
The other factor which is crucial is confidence, and I had a dip in my confidence when Retford half marathon went badly (over 1 minute slower than my PB from 2016). That was followed by some disruption due to the snow and the cancellation of the East Hull 20 mile race. By that stage I was badly in need of a confidence boost, and so my coach (Dave Tune) and I scheduled 2 key sessions in the final 3 weeks before the marathon. I managed a tough 22 miler with accelerating 5 mile blocks, and then 13 days before the race I did an excellent 90 minute threshold run which was spot on marathon pace throughout. I really needed those runs to go well, and they left me feeling a lot happier about the training block as a whole and more confident about the marathon.
Maranoia (irrational worry about the impending marathon race!)
This was to be my 16th marathon start, as well as doing 9 ultras so far. But that previous experience has not reduced my levels of Maranoia. In fact I think this is my worst case of Maranoia so far!!
After Retford, I had a really tight right hamstring. A couple of visits to the physio (Sally Fawcett and then Kim Baxter) sorted that out and they both assured me I was fine. Despite that, I continued to feel pains in my hamstring right up to race day. I had another appointment with Kim, where she confirmed again that there was nothing wrong….but the phantom pains persisted – clearly psychological. I then made matters worse in the week before the race, by deciding that I had tight glutes, and through doing self treatment and rolling on a tennis ball I developed nerve pains in my right side – which gave me something else to worry about!
I tried to deal with all this through various calming techniques, including a form of meditation known as Emotional Freedom Technique (EFT) which involves tapping on meridian points around the body whilst repeating reassuring messages about the problem you're trying to resolve. This was actually incredibly helpful and calming.
I also don't sleep well in the run up to a marathon (in fact during marathon training full stop!). The worst thing ever for me was when I learnt just how important sleep is for recovery. That has just made me more anxious about getting enough sleep – and of course that anxiety then stops me sleeping. I was doing OK in the week before the marathon, but then sure enough on Friday night I lay awake almost all night, feeling like match sticks were propping my eyes open, and managed at most 1 hour's sleep.
That, of course, was not good for my stress levels and the Maranoia ramped up another level!! I tried to help myself on the Saturday before the race with a couple of sessions of Yoga Nidra, which is a therapeutic and restorative relaxation practice – that did help a lot, and somehow got me through the day.
Having spent most of Saturday kicking my heels, waiting around the house (and probably driving my wife, Kate, mad with my fidgeting) the time finally came for me to travel over to Manchester. I was staying with Noel Irwin (friend of the Striders and all round great bloke!) who has now moved to Manchester. Noel was in Sheffield on Saturday, so I drove over to Manchester with him on Saturday evening and we had a good chat, which nicely distracted me from the race. I got to bed nice and early – and the one advantage of virtually no sleep on the Friday night was that I managed a good deep sleep on the next night!
Race morning
One of the reasons I chose Manchester is that it is a very fast and flat race, if the weather is OK – which of course is far from guaranteed in Manchester. On Sunday we were very lucky and the weather was perfect – cool, dry and virtually no wind at all. I could not have asked for better.
I had a very easy journey to the start of the race, only 4 stops on the Metro. So I was at the race start nice and early. I met up with Tom and Charly, from the Striders, for a quick pre-race chat. Then I took myself off to go through my pre-race preparation. I spent a good amount of time doing my usual stretches and then some yoga. I really value my yoga practice (my wife is a yoga teacher) and find it very calming, grounding, and good for getting the energy flowing. I felt pretty good after that, and managed to sustain my calmness and positive mindset despite the huge queues for toilets and the bag drop.
I headed off towards the start just after 8.30am, feeling calm and focused. Another reason why I chose Manchester ahead of London is that I don't seem to respond well to busy crowds and pre-event hype. This was perfect, as I had a nice jog to the start line and then there was loads of space in front of the start for a good warm up. I was then able to find my place in the start line, 2 rows from the front of the race. No danger of a repeat of my Frankfurt fiasco here!!
The Race
The race got underway, and I soon found myself trying to slow down. As usual everyone went off way too fast and the pace felt too easy. Despite my efforts to hold back, my first mile was done in 5 minutes 55 seconds, which was not the plan. After that though I managed to put the brakes on and settled into a good rhythm, knocking out the miles bang on my target pace of around 6 minutes 3 seconds per mile.
To try and manage my ongoing Maranoia induced injury fears, I used a series of mantras which I repeated to myself. These aimed to keep me relaxed and stop me from looking out for niggles or tensing up. I told myself I was "in my flow", that I had to "stride out uninhibited" and "Run with a smile". I particularly focused on the last one, and really tried to enjoy those early miles.
Around mile 6 I went through Sale, where I saw Noel who was marshalling there – the first of several friendly faces who gave me encouragement and support on the day.
I completed the first 10k in 37 minutes 33 seconds, which was bang on target. However I did have some concerns. My plan was to run the first 8 miles at the low end of my Threshold HR (140-145 bpm) but I was averaging between 148-150 bpm. I was also feeling some minor aches in my legs – nothing much, but more than I should have been at this early stage in the race.
I tried to just relax and not worry about this. That was helped when I joined up with another similar paced runner for a few miles, and we worked really well together. I was feeling pretty positive as I approached mile 10 where I saw my coach, Dave, and Jenny Blizard, and then Tom Halloway – it was nice to see them and that gave me a good boost.
Not long after that, as we went through Brooklands (where there was great support) and on into Timperley (mile 12), we joined on to a few other runners and formed a pack of around 5 or 6 runners. Running with a pack is helpful, having a similar effect to a cycling peleton, helping with pacing and mental focus, and generally making the long run feel that bit easier. At times I had a slight concern that we maybe going a bit too fast (running between 5.59 and 6.03 m/m), but I decided that continuing with a strong group was beneficial rather than holding back and ending up on my own.
Soon we were going through Altrincham, where we reached the half way mark. This section has the only climb of any note on the whole course – it's not that bad either. I got a bit over excited here, with the crowds and the impending half marathon mark, and I pushed to the front of the group, overtaking some other runners along the way – I would soon be regretting this.
I passed through half way in 1 hour 19 mins 22 seconds. This was exactly as planned, averaging my target 6.03 min/mile pace. It left a small amount of room to slow in the second half, but not much – I could afford the "luxury" of being able to run the second half at 6.05 m/m pace and still achieve my goal…..
Miles 13-18 Getting dropped, bouncing back
I'd been looking forward to the next stretch, coming back out of Altrincham. It was slightly downhill and I expected the positive feeling of being past half way. Also for a couple of miles you have loads of runners on the other side of the road heading into Altrincham, so there's plenty of mutual support (and it was great to see several Striders and shout out to each other). However I pretty soon realised that I wasn't feeling good. The group I was running with had picked up the pace, and I was struggling. I had pushed a bit too hard in the previous couple of miles. My legs ached that bit more, my stomach felt unsettled and I generally felt weaker than I should have been feeling with over 12 miles to go.
Over the next 2-3 miles may pace slowed further with mile 16 being a 6.07 minute mile. In that time I dropped off the back of the pack I'd been running with. As I slipped further behind them I looked back to see if there were any runners coming through who I could run with – but there was a massive gap and no one to be seen. I was on my own.
This was potentially disastrous. I was about 30 metres behind the pack that I'd been running with. With such a long distance to go, I knew that I could not run all the way on my own and hope to sustain the required pace. I knew that if I did not catch that pack back up again, then my race was over. The problem was that I didn't think I had it in me to claw back the gap.
At mile 16 I was still feeling sorry for myself, when I saw Dave Tune again. I hadn't expected to see him until mile 18 so this was a nice surprise. He had weighed up the situation and told me that I had to try and catch up the group in front of me. Although I already knew that, it was only when Dave gave me this encouragement and instruction that I finally started to wake up to the situation. I realised that I could not give up on my dream without giving it a bloody good go. I also realised that although a gap had been created, the group had not been getting further ahead of me during the last mile or so. It was time to go for it!
I was quite sensible about how I approached this. The temptation was to put on a sprint and get back into the group quickly. But instead I just gradually picked up the pace and slowly but surely the gap diminished and I knew I was going to catch them. I knocked out miles 17 and 18 in 6.01 and 6.03 minutes per mile. By the end of mile 18 I was back in the pack. Get in!!
I saw Dave and Jenny again at mile 18. Dave clearly knew how big a deal it was for me to have caught back up with the pack. "Great running Mark! Brilliant!" he shouted. I gritted my teeth and gave a fist pump. This was a big moment, the race was back on. Come on!!
Miles 19-26.2 Digging deeper and deeper
I now had the momentum with me. Having caught up the pack, I pushed on and passed most of the runners in that group. I continued to catch and pass more runners over the next couple of miles. I was feeling strong and confident.
I soon went past 30k. I had completed 3 consecutive 10ks in the same time of 37 mins 33 seconds. That was bang on target at 6.03 min/mile pace. Those times are also only 82 seconds slower than my 10k PB – which shows how weak that PB is….
Soon after I passed through 20 miles in 2 hours 1 minute and 13 seconds. I was pleased with that. At that point, I had exactly 10k to go, and could afford to run it in 38 mins and 45 seconds – that was do-able but far from easy at this late stage in the race. There was still a lot of work to do.
The problem with my surge past the other runners was that I soon found myself running on my own again (in front of them this time). This was the part of the course where I really didn't want to be on my own. The course heads out into the countryside at around mile 20, for a few miles, and there are virtually no supporters until the final mile of the race. It was going to be a long and lonely slog which would require a lot of concentration and mental strength. This was where those long threshold runs on the windy Brighton seafront would count!
My pace was slowing a little. Mile 21 was done in 6.11 minutes. However I was then able to knock out a faster mile 22, at 6.05 minutes. That was a big boost. But it also took it out of me. I was left with 25 minutes to run the final 4 miles – that's 6.15 min/mile. If someone had offered me that position before the race I would have bitten their hand off. It felt achievable. But, as I continued to run alone with no one either running on the course or even spectating, I was finding it harder and harder to sustain my pace.
During mile 23 I looked at my watch a few times and saw my pace at 6.20 or 6.25. My pace for the mile as a whole was 6.17. This was worrying. I needed to stop the decline and try and go a bit faster. But I felt so weak and every muscle was screaming at me – the likelihood was that I could only get slower from thereon in.
At this point I had a word with myself! I recalled my last long training run down in Brighton. I had set out to run 22 miles, at 6am, including 4 blocks of 5 miles each – starting with 5 miles at 6.45 pace and gradually progressing with the final 5 miles at 6.00 pace. The run had gone well but I had only managed 3 miles at the target 6.00 pace and then I'd had to slow down. Afterwards Dave observed that my heart rate had still been OK and that physically he thought I had been capable of continuing at 6.00 per mile, but that my slowing down had been a psychological decision – my brain telling me to back off! I took this on board, and at mile 23 of the marathon I realised that I was in a similar position. I may have felt exhausted, but my heart rate remained stable, within the threshold zone, and I was capable of continuing to push. It felt like an ALMOST impossible task – but I did have a choice. I told myself was still physically able to continue, and I told my brain that I just had to endure this pain for about 20 more minutes. If I backed off now, it would have been a mental decision not a physical necessity, and I would have been really disappointed in myself.
Of course that is all very easy to say, and very hard to do. One of the mantras I was using came to the fore at this point. In my pre-race preparation I had been telling myself that when I needed to dig deep I would find new levels of strength and would feel amazing. I now started to repeating to myself "Dig Deep, Feel Awesome". I can't exactly say that I did feel "awesome" but the mantra did spur me on. I managed to pick up the pace a little and mile 24 was slightly quicker at 6.15 minutes.
I was hurting very badly by now. I felt weak. I had been taking gels every 4 ½ miles, but after having taken one at mile 18 I decided not to take any more, for fear of upsetting my stomach in the later stages of the race. I was now questioning that decision. But it was too late now, and I just had to grit my teeth and press on. Not long to go now – remember it is all psychological, I am capable of pressing on at this speed. "Dig deep, feel awesome".
Mile 25 was awful but I knew that if I got through that and into the final mile, then I could pick up the pace for one final push. I just about held it together as I completed yet another lonely mile in 6.20 minutes. It was a good feeling to pass the 25 mile marker and to know the end was in sight.
As I dragged myself forward there were gradually more spectators appearing on the course. My pace was picking up and was showing on my watch at 5.55 minutes per mile. I actually eased off slightly, fearing I could not sustain this for a full mile. Soon I could see the blue inflatable shape of the finish line in the distance – still some way off, but at least I could see it. Eventually the 26 mile marker was passed, with that mile done in 6.05 minutes. However much I was hurting, I knew then that I was going to do it.
I pushed myself on through the final few hundred metres. It did feel like the finish line was still a long way away and was not particularly getting any closer. I saw the clock tick over 2.39.00, but I was almost there. Even at that stage, I felt that my body could break down at any point. I thought of pictures of marathon runners whose legs had given way in the final metres of the race and who had crawled or had to be helped over the line (doing a "Full Foster" in Marathon Talk speak!). If I'd let myself relax at all then that could have happened to me. I gritted my teeth, took deep breaths and drove forward – just about keeping it together. The clock passed 2.39.30 – I was nearly there but needed to keep some pace up – it was tighter than I would have liked.
At last I crossed the line in 2:39:54! I'd done it with 6 seconds to spare. I managed to raise my arms briefly, stopped my watch and then hit the floor!!
A couple of medics came over looking concerned. I was fine, grinning from ear to ear, but I knew it would take a few minutes before I could face moving my legs again. They helped me into a wheel chair where I sat and recovered for a little while. I must have looked quite a sight, sat in a wheel chair with a huge smile on my face, punching the air repeatedly!
After a few minutes I thanked the medics and started the walk back to the baggage area. I was still smiling and walking with my arms aloft.
I do often have a few tears after a marathon, and right on cue they soon arrived. It's such a huge physical and emotional effort, not just the race but the 12-16 weeks of training and the build up. At Frankfurt there were a few tears of frustration and disappointment at the end. When the tears inevitably came this time they were undoubtedly happy tears!
A few stats
I finished in 2 hours 39 minutes and 54 seconds – it feels good typing the 39!! My first half marathon was 1.19.22 and the second half was 1.20.32 – one of these days I might manage a negative split!
I finished 37th out of a field of almost 10,000 runners, and I was 3rd in the Male Vet 45 age category. I am delighted with that position. Although those last 6 miles were very tough, I am pleased that I progressed through the field strongly. After 10k I was in 64th position, and I had moved up to 58th at the half way point, and then 50th by 30km, and so I gained a further 13 places in that final stages. All very pleasing from a racing perspective.
Still smiling
A few days after the race I've still got a big smile on my face! It's odd that achieving this arbitrary time goal, and improving my PB by the tiny amount of 21 seconds means so much to me – but it does! I've received so many kind messages and texts and comments, from friends and fellow runners and club members who seem to understand my obsession with this goal and how much it means to me – and I have been so grateful for those messages.
I have questioned why this matters so much. I think a lot of it is about the incredible challenge that the marathon distance brings. I've raced distances from 1 mile on the track through to over 100 miles. Each of those distances bring their own challenges and I don't think any 1 distance is harder than the rest – running 1 mile race was one of the most painful experiences of my life, while ultras require a different kind of strength. But for me the Marathon is really special. It is the ultimate distance. I think that is because it brings together the combination of running a long distance and trying to maintain a quite fast and intense pace throughout – and requiring us to keep up that intensity for just a bit longer and further than our bodies think they are capable of. Marathon training requires us to walk a tightrope where we continually try to balance pushing ourselves harder whilst avoiding breaking down, for 3 or 4 months…. Then when it comes to the race we try and find this threshold point which we can run at for 26.2 miles (and several hours), but where the urge is often to run faster, and where pushing that bit too hard at the wrong time can bring everything crashing down. There is so much that can go wrong and often it does – the marathon is often the Perfect Storm. But on a few, rare occasions it can come together and it can all go right – and that brings complete euphoria!
In recent years I think I have got into shape where I could have run a faster time than I did on Sunday. But on each of those occasions the marathon chucked out different hurdles and challenges, as it so often does, and stopped me in my tracks. It was as if I was being reminded not to be too cocky and not to think it was too easy to achieve my goals. Even on Sunday, when it did all come together, there were a number of challenges along the way, and I had to endure some very tough times. And that is the reason why I feel so happy. I hope that in future I will run a faster marathon than this. But if I do, I doubt that it will bring as much satisfaction as this one. That's because on Sunday when the marathon threw new challenges at me and put barriers in the way, I was able to look inside myself and find greater strength than I ever thought I had. In those last few miles I was so close to imploding. But I just couldn't or wouldn't let go of the dream of becoming a 2.30 something marathoner.
Greater Manchester Marathon Results
| | | | |
| --- | --- | --- | --- |
| Pos | Name | Cat | Time |
| 37 | Mark Gray | V45 | 2.39.53 |
| 126 | Andrew Norton | SEN | 2.48.56 |
| 153 | James Rose | SEN | 2.51.11 |
| 649 | James Smith | SEN | 3.06.00 |
| 817 | Gareth Evans | SEN | 3.10.37 |
| 95 | James Garner | SEN | 3.12.31 |
| 953 | Andy Wier | V40 | 3.13.16 |
| 1552 | Charlotte Maddox | SEN | 3.24.37 |
| 2020 | Charlie Field | SEN | 3.31.39 |
| 3779 | Matt Gibson | V40 | 3.53.54 |
| 5999 | Adrian Moss | V55 | 4.22.43 |
9,341 took part in the race, including 11 Striders. Well done to all! A special mention to Charly, James Smith and James Rose who all smashed their PBs. After finishing 2nd at Grindleford James Rose was on crutches and was out of Manchester, but then he made a miraculous recovery last week and turned up and ran a big PB of 5 minutes!
The race was won by Shadrack Tanui (unattached) in 2.21.19 and the first lady home was Dani Nimmock in 2.38.22.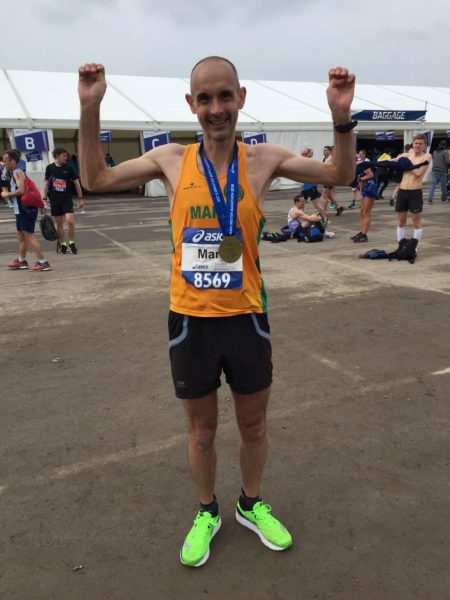 Full results available here.