Race Date: Saturday 9th June 2018
Great SwimRun…never heard of it? Me neither until my friend Hannah messaged me and said did I fancy the challenge?  Seeing as this is a year of challenges for me I signed up blindly without even looking at the race details. All I knew is that you did it in pairs and were tied together. Sounded fun.
6 months to train, only 2 weeks before did we meet up for a practise. I was asked if I was buying a SwimRun wetsuit, to which I replied "Nah, I'll wear my full wetsuit for swim, then take it off for the run and carry it". Turns out that isn't an option as it isn't a 3.4km swim followed by a half marathon, it's a 9 leg event where you get in an out a number of times (see map).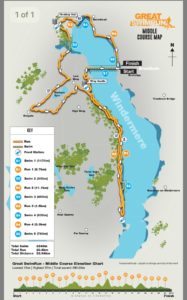 So serial photo bomber from Sheff Tri, Jim Lafferty, lent me his surf suit and off we trotted to Windermere.
The sunrise over the lake was beautiful and all the partners tie together to get in for the swim. The first leg was nice and steady as people get used to being tied to their partners and swimming in their trainers.
Out the other side and onto shore for a 5km run. Fuelled by Clif bars and chatting with fellow competitors, we made it to the bottom of the lake where we had to get in for a short swim before the next 11km Run. Worked really well as running in a wetsuit when the sun is out is well…quite hot.
This running leg was the hardest and thoughts of the next dip in the lake got us through. Beautiful trail run through woods and farms kept the mind busy. Every now and then we'd see other competitors from our race and try and overtake them
The back of the race was broken, onto the last few short legs of swimming and running. Tiredness kicked in as we'd been going for 3hrs at this point. We were neck and neck with 2 other couples as the Marshall told us we were 9th, 10th and 11th overall as we went past. This was all the motivation we needed.
We dug deep on the final 2.3km run and ran straight into the lake for the swim finish. The scenes were unbelievable as the other swim races had the same finish line. 5,000 swimmers all dashing for the end and we are tied together with our trainers on battling through the masses. Crazy finish to the race but thoroughly enjoyable. We managed to hold onto 9th place and plan to return next year.
Really fun event in a beautiful part of the country. Entry fee is £130 a pair, but you can certainly make a dent in that by eating all the Clif bars you can at each of the seven feed stations.
The middle distance was won by Joel Enoch/Joe Tomaney in 2.48.26. There were 40 pairs in the middle distance race in total
Striders results:
| | | | |
| --- | --- | --- | --- |
| P | Name | Cat | Time |
| 9 | Adam Newell/Hannah Pearson | Mixed | 3.37.16 |
Full results: here