Report by Stuart Jones
Race Date: Sunday 16th September 2018
There is a direct line connecting the National Cross Country on Parliament Hill at the end of February, and my appearance at this event.
I shared that day with Nick and Richard, and later a whole host of Striders. After a very early start, we partook of Cannons Park Parkrun in Edgware before heading into the big city by Tube. A volunteer at Parkrun was handing out Harrow Half flyers. I expect most went in the recycling bin, but after a brilliant trip that weekend (they let runners like me do Nationals, for heaven's sake!) I wanted to revisit the adventure.
A trip to London is still a big thing for a northern lad like me, but also an opportunity to double or triple-up on the way.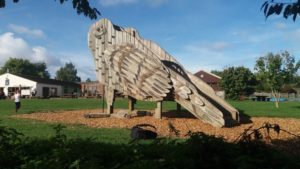 Rosliston Parkrun (put it on your to-do list) near Burton on Trent on Saturday morning, in a cautious 23:30 (which makes me fourth fastest Strider out of six at the location), came first, with a good warm-down couple of miles. The café (disappointed by the lack of flapjack) was very popular afterwards – I can't think of another which has such a high post-run take-up.
Then there was a whole lot of countryside on the way to visit number two son in Coventry. As we took a walk from his new address we discussed the landscape and the potential for a trail race from the Massey Sports Ground. There is a thriving running club at Massey but Oli reckons he's not heard of a local field and woodland trail race. We talked overtaking opportunities (few), hill challenges (none), running through fields of sweetcorn, stiles and gates and so on.
Later on it was down to 'that London'.
The race started and finished on the playing fields of Harrow School. OMG! The playing fields of Harrow School! The school is 450 years old, and has built up an incredible set of facilities in that time. They have 250 acres of football, rugby and cricket pitches. And astroturf for multi-sports. And an athletics track and 12 tennis courts and a 6-lane swimming pool and a climbing wall and a sports hall that fits in 4 badminton courts and a gym and a golf course. I ask you, a golf course! Which means that they had plenty of space to fit in a several hundred runners, car parking round the edges of the pitches and a start / finish village.
Harrow School is nestled (if 250 acres 'nestles') on the side of 'on the Hill' and, as this was largely an out-and-back route, that hill had to be done twice. Not pleasant in the last mile, I assure you. The route took in school precincts, the town centre, a lot of closed roads, Harrow Recreation Ground, past Sir Roger Bannister's training ground and went far enough out, to Pinder, to run alongside a real dairy farm.
I took a tumble after striking a traffic cone at about 9 miles, costing me a few drops of blood, scuffed palms and a couple of minutes as I was checked out by the handily placed medical support. I'm proud to say that I did not swear (out loud). Knee, hip, elbow on the right side, both palms, and buttocks that feel like I've been pummelled with a wooden rolling pin, all injured. Those traffic cones are so well camouflaged, aren't they?
My sketchy plan for September is to prepare fully for the Yorkshire Marathon in October. Three Half Marathons, a ten mile leg of Sheffield Way Relay and a 10k. What I planned for today was that I would run at Marathon pace, around 8:20 per mile, looking to take a sliver off last year's time. And what I did instead was run pretty much the same pace and time as last week at Vale of York Half, 7:45 per mile (1:41:13 last week, 1:41:30 this time). This may be what Phil Howson meant last weekend when he said I should be aiming to take a huge slice off my 3:40 target for York.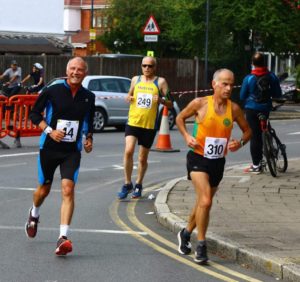 Possibly the most boring race photo ever – pre falling over
They were using the new seaweed-derived water pod things at water stations. Nice idea, but the volunteers have to wear gloves, the pods have to be kept in water, and the runners are definitely novices at using them. I expect we'll get used to the slight taste, and probably take on plenty of water. This first time we split a lot in all the wrong places. The slogan is 'bite and suck'. I'll leave you to picture that one.
The drop off the 'on the Hill' returning to the school sports grounds appeared dangerously steep to me (-25.5% at 3:46 min/km pace), having a series of cobbled speed bumps, me being knackered and me having fallen once; but we do like a challenge. This was not a sea-front promenade after all.
Another water bottle, a decent medal and simple logo t-shirt, and no unnecessary plastic bag.
Would I do it again? If I can join it with another (Victoria Dock, Valentines or the home of Parkrun at Bushy) London Parkrun and a day out in the big city. Could a decent set of Striders dominate the podium? Absolutely.
589 runners completed the race.
First finisher:     Matthew Robinson (Herne Hill Harriers), time 1:16:52 (79% of Kipchoge's pace)
First Female     Sasha Birkin (Metro RC), time 1:30:01 (68% of Kipchoge's pace)
First (and only) Strider, and one of only two runners from north of Luton:
Stuart Jones time 1:41:35 (60% of Kipchoge's pace)
Full result, should you want it, is here.
| | | | |
| --- | --- | --- | --- |
| P | Name | Cat | Time |
| 110 | Stuart Jones | M50-59 | 01:41:35 |