Race Date: 2nd September 2018
Report by Gareth Pert
As we all know, weather is the most predictable element of British life. So all contenders at this running festival, organised by It's Grim up North Running, were a tad surprised that it was warm and sunny. None more so than chicken man, wearing a full body chicken outfit, thinking 'Why the cluck did I sign up to a marathon in this weather?'
The festival comprised distances of 5k, 10k, half marathon, 20 mile & marathon. All were run on a there and back route from Hornsea, along the Trans-Pennine Trail. The most sensible turned back way before they got close to Hull. The small travelling band of Striders concerned themselves with the half marathon. This was my first attempt at the distance and, at the outset, had set myself the target of getting round inside two hours. The races set off in waves. Chicken Run started at 10, we set off at 10.15.
Tony Ker will testify, from our drive up, that navigation is not my strong point. Even so, you might be wondering how it was possible to take the wrong turn 3 times on a there and back route. Believe me, it's possible. Having set off at the sea wall, our intrepid heroes set off at quite a lick. I had to slow myself down into a more sustainable pace. After crossing the only main road of the race, we turned on to the trail proper, except I followed a couple of runners (possibly not racers) down a completely different trail. Thankfully, a fellow racer called me back.
At the first water point we all came across what proved to be the major problem with the race. Water was in half-full (by the end they were half-empty) cups. We would either have to stop, drink and dispose of our cups, or run with them to the next marshal. It simply wasn't enough water on a day that was heating up.
Soon after the first water point I came across Chicken Man, who was encountering a different problem. He was carrying his own water supply and needed to unload some ('I've just realised there aren't any toilet stops'). Unfortunately he couldn't reach his zip, so I stopped to help (No, not that zip Stuart Jones).
Unscheduled stops aside, I was making good time on the outward leg and feeling reasonably comfortable. I was playing, 'How far can I run before I see Andy running back towards me?' Further than I had expected, but soon enough Andy, Tony, Martyn & Ashleigh passed me and gave encouragement. I've been asked not to describe Martyn's race face and, thankfully for all concerned, words escape me.
Just before the turn, a fellow runner said, 'You make it look so easy.' Before I could feel too good about myself she sped off into the distance. The return, particularly from about 14k, was a hard slog. It was coming to the hottest part of the day and it was here that the lack of water was telling. I was also running much of this part of the race on my own. I found myself getting lost in my thoughts and drifting. My run home was not helped by being misdirected, close to the finish, by a helpful local who sent me towards the allotments.
I did just scrape in under 2 hours. I have learned a lot from my first experience of a half and am grateful for the support that greeted me at the end. The other Striders put in a formidable performance, taking the first four places. I would recommend this to anyone who likes a low-key, sociable event. If you're running over a half, bring your own water. And don't wear a chicken suit.
| | | | |
| --- | --- | --- | --- |
| P | Name | Cat | Time |
| 1 | Andy Norton | M | 01:21:01 |
| 2 | Tony Ker | M | 01:25:43 |
| 3 | Martyn Goldsack | M | 01:36:07 |
| 4 | Ashleigh Barron | F | 01:36:07 |
| 23 | Gareth Pert | M | 01:59:59 |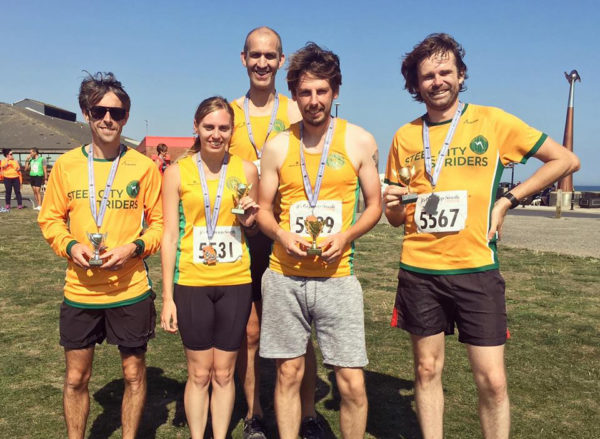 Full results can be found here
Save
Save