Race date: Sunday 23rd September 2018
Race report by Neil Schofield
It's true what they say about marathon training, it's so much easier keeping to a schedule in the cold and dark when annoying things like holidays and impromptu barbeques (with a few cheeky beers) get in the way. It was armed with this knowledge that I decided to take on a spring marathon for my first attempt at the 26.2 mile distance, but a combination of beasts from the east and unseasonably hot weather on the day meant that any hope of a decent time never materialised and I was left feeling that I needed to do the distance justice, so the search for an autumn race ensued.
The Hull Marathon has been contested since 2012 but has recently been given a boost following the success of the previous event during the City's year as European city of culture. Now the course is littered with local artistic pieces at each mile marker, with the over-arching theme of 'dead bod', a 1960s graffiti piece taken to the hearts of locals (see here for an explanation).
The marathon is fairly low key with only around 1000 runners, but the streets are kept busy by 2- and 4-person relays happening at the same time and covering the same distance. This meant that there were always plenty of people to chase down and lots of supporters. Speaking of supporters, the marathon employs special volunteer cheer teams at strategic locations on the course to keep spirits high. There is no better sight at mile 22 of seeing an old lady in a crocheted bobble hat with an inflatable banana bellowing encouragement as you grit teeth and dig deep. Equally fantastic were the 'Fit Mums and Friends Pink and Blues' support who would walk along the route looking for people struggling so that they could run alongside for a mile or two, with kind words and encouragement.
The route of the marathon had something to offer too. Starting in West Park (with plenty of indoor room for changing and last minute nerves) the route heads info the City centre for a tour of the sights before heading out into the East and then back along the Humber docks in order to take in the crossing of the Humber bridge for a brief encounter with Hessle. Once safely returned it's downhill back to a grandstand finish inside the KCOM stadium, but not before you've had the chance to record a fast 100m time on a local athletics track (I did it in 32 seconds by the way!)
The race itself went as well as it could do, a cautious start allowed me build into a decent rhythm without too much effort, and as a result the expected wall at 20 miles never materialsed and I was able to keep a steady pace to record a 36 minute personal best on my spring time.
Wobbly knees and cramp aside, I decided that now I've gone sub 4 I can hang up my marathon boots and concentrate on shorter distance running in the future,  but if I was to run another one then Hull would definitely be on the short list.
The race was won by Jonathon Walton of Leeds City AC in a time of 02:31:34 and first lady over the line was Georgina Schwiening (unattached) in a time of 02:53:28. Three Striders took to the streets of Hull and their times are shown below. Well done guys!
Full results can be found here.
| | | | |
| --- | --- | --- | --- |
| Pos | Name | Cat | Time |
| 100 | Adam McAuley | M45 | 03:27:43 |
| 199 | Neil Schofield | M45 | 03:48:08 |
| 612 | Caroline Woods-Peel | F40 | 05:35:35 |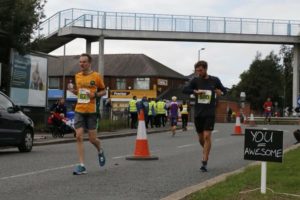 Adam McAuley on the course, feeling awesome.