Race Date: Sunday 6th May 2018
As Haweswater half was cancelled this year due to snow, a small group of Striders decided to do Keswick half instead. We were kindly offered board and lodgings by my Dad, Syd, and for anyone who knows him, you will also know that copious amounts of alcohol were on offer and expected to be drunk.
Weather wise, the day could not be more different than the day Haweswater was cancelled. Today was about 25 degree heat and full baking sunshine. Similar to London, this put paid to any attempts of a course PB but ultimately, as London, it  turned out I would run slower but improve my finishing position upon last year.
I found my thoughts reflecting back to last year's race several times over the weekend as last year I ran this race with Trev, in what transpired to be Trev's last half marathon. I decided on my way round that I will try and run this half every year from now on in his memory. Trev, gone but never forgotten. RIP mate.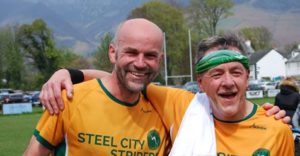 The first half of this race is beautiful. It has some amazing views of Derwentwater and some pretty decent hills to challenge yourself on. However, once you've reached Borrowdale and turn left onto the main road, it is an undulating, pretty boring slog back into Keswick. Once finished though, there is copious amount of beer, food and cake that can be consumed.
The men's race was won by Chris Arthur of Blackburn Harriers in 1.13.30. The women's race was won by our very own Jen Rich in 1.32.38. Brilliant running again Jen, well done. 4 Striders were in the field of 733 runners – well done all
Striders Results
| | | | |
| --- | --- | --- | --- |
| P | Name | Cat | Time |
| 21 | Jen Rich | F Sen | 1.32.38 |
| 57 | Nick Burns | MV 45 | 1.39.54 |
| 166 | Paul Stuart | MV 50 | 1.52.14 |
| 221 | Rachael May | FV 35 | 1.55.59 |
Full results;