Race Date: Sunday 24th June
Race Report by Jo Taylor
The Kinder Trog is a 16 mile (actually more like 15 miles!) fell race with 3491 ft of ascent, that starts in the village of Hayfield and loops up on to Kinder .
I have done this race twice before but not since 2007 and 2008, so I was curious as to how I would find this race 10 year's on! It was a beautiful hot and sunny day, with amazing views. I saw another  strider on the start line, Matt Zawadski so said a quick hello! After a relaxed start we set off, the route sticking to a road for the first mile or so, going up a big hill. Retrospectively, I paced myself badly and set off way to fast! I was feeling tired much too early on in the race, and felt clumsy and heavy on my feet going over the rocky terrain on kinder … none of the graceful gazelle like running that I aspire to! I tried munching on a cliff bar, in the hopes that it would rejuvenate me, also hoping that I might settle into a pace that felt comfortable and maintainable.
Unfortunately for me, the struggle continued! From about mile 5 my feet were feeling pretty sore with blisters. I continued, knowing that a good friend of mine (who I'm slightly competitive with!) was behind me! Was she a minute, 5 minutes or 10 minutes behind?! I couldn't see her, but she was a fairly good incentive for me to keep going.
Thankfully after a fairly tough 2 and a half hours, I could see Hayfield, I enjoyed the last descent knowing that I would soon be able to sit down and take my fell shoes off! As I entered Hayfield, I heard the biggest cheer ever … not for me, I think there was some important football match going on!
I finished in 2 hours 46 minutes, and am happy that I was able to run it despite struggling with the heat, low energy levels and probably the worst blisters I have ever had! I felt like I learnt some important lessons about pacing myself.  I went into it with the wrong mindset, I was expecting it to be easier than some of the longer races/events that I have done over the last year, and therefore set off at a pace I couldn't maintain and suffered!
Phil Marsden from Horwich RMI Harriers & AC won it in 1 hour 50 mins, and the first lady was Nicola Bowen from Dark Peak Fell Runners in 2 hours 28 mins. The only other Strider was Matt Zawadski who ran it in 3 hours 39 mins.
Full results are here (although I'm listed as a man on the results!)
| | | | |
| --- | --- | --- | --- |
| Pos | Name | Cat | Time |
| 76 | Jo Taylor | FSEN | 02:46:59 |
| 160 | Matt Zawadzki | M40 | 03:39:30 |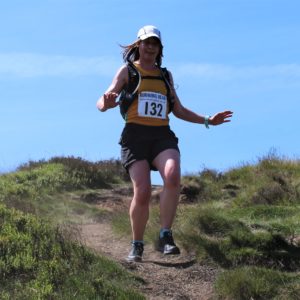 Jo demonstrating her 'graceful gazelle' gait atop Kinder