Race Date: 02 May 2018
Maltby Memorial is a 10k race, the vast majority of which is on the quiet trails around Maltby, Roche Abbey, Laughton and Hooton Levitt.  It is run in memory of former members of Maltby Running Club who are no longer with us.  It's a fiver to enter, for which you not only get a number but also a buffet spread of sandwiches, cakes and other goodies after the race in Maltby Catholic Club, at which registration takes place from 1815 on the night.  All profits from the event are donated to the British Heart Foundation in recognition for the help and support they have provided the club throughout its existence.
There are perhaps three distinct sections to the race.  The first is the dash across the field from the start to the kissing gate in a corner before a trail through the woods eventually leads to the peaceful tranquillity of Roche Abbey, a 12th century home to Trappist monks which now lies almost entirely in ruins.  The second, once runners emerge from Kings Wood around the back of the abbey, is a 1.5 mile, 270ft climb through Slade Hooton towards Carr which also includes the race's only significant road section of just under a mile.  The third is the two mile steady descent that follows to the finish, some of it also on tarmac.  Save for a strong breeze and low sun which made the climb in the middle section quite arduous (or more arduous than normal), conditions on the night were perfect for trail running, that morning's rain having left the ground forgiving with plenty of puddles and more mud than to which I'd been accustomed on the three previous occasions I'd run this.  It was cool though at the finish which made the dash back to the club to buttties and a beer all the more hasty.
111 runners completed the event.  The race was won by Gareth Lowe of Clowne in a time of 37'07.33.  Adele Marsden of Kimberworth was first lady home in a time of 46'19.53.  I was one of seven Striders on the night, the fastest of which was Vincent Baker in a time of 46'42.94.
| | | |
| --- | --- | --- |
| Pos. | Name | Time |
| 18 | Vincent Baker | 0:46'42.94 |
| 19 | James Fletcher | 0:46'49.84 |
| 29 | Simon Ellis | 0:49'02.13 |
| 78 | Simon Gleadhall | 1:00'35.9 |
| 83 | Nicola Platts | 1:01'24.47 |
| 85 | Sarah Uttley | 1:01'36.02 |
| 89 | Guy Woodcock | 1:01'56.63 |
Full results;
http://www.maltbyrunningclub.co.uk/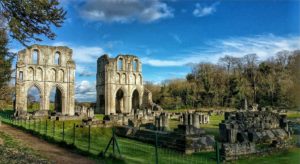 Roche Abbey, courtesy of Dave Burke from 'Rotherham…I Remember When' Facebook page.  Used because I forgot to take one on the night!