Race Date: 16 April 2018
Race Report by Matt Gibson
If you want hills, stiles (seemed like thousands), nettles, landmarks, more mud, country parks, woods, bogs and swamps then this could be just the race you are looking for. There is even a bit of tarmac for the road lovers, this race had it all.  This marathon (approximate distance warn the organisers) starts at Mow Cop in North Staffordshire, following roughly the route of the Newcastle Way passing through Kidsgrove, Newcastle (the south one) and Madeley before finishing at Market Drayton.  Navigating ability or follow the leader skills are required as although the route is way marked and signed, these can be tough to follow.
My guide for the day and I had the occasional deviation from the route but generally we were ok with our follow the leader and regularly asking "have others run this way" approach to dog walkers and the like.  Although when we did arrive at the Red Lion where we had left our car the night before looking for our free pint, goody bag and a well earned rest we were baffled to find the place deserted and discovered it was the wrong pub and that the finish was a further half mile away.
This was an excellent, well organised event, but very tough given the underfoot conditions, probably the second toughest race I've done, tougher than Grindleford a few weeks ago but not as tough as the brutal Snowdonia Trail Marathon last year.  I seem to be drawn to tough races so will probably be back next year, any other Striders coming?
There were 181 starters.  The winner was Rob Grantham from Pensby Runners in 3.53.00. First lady was Tracey Brown of South Cheshire Harriers in 4.29.44, she also came second in the best on route selfie competition when she sank up to her hips in a bog, losing out to a naked man (pictures not included). Champion Strider for the day was me, Matt Gibson in 5.26.13 coming in 52nd place ably assisted by Lucinda, our first marathon together, and not a single argument, even if I did slow her down considerably.
Full result can be found here http://gold-events.co.uk/wp-content/uploads/2018/04/NW-2018-results-3.pdf
| | | | |
| --- | --- | --- | --- |
| Pos | Name | Cat | Time |
| 52 | Matt Gibson | MSEN | 05:26:13 |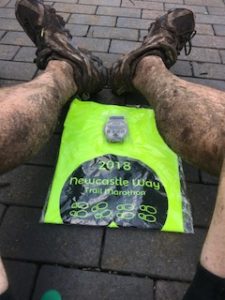 No naked men, just good clean fun.