Race date: Sunday 25th March 2018
The Northern Road Relays is a club competition that attracts top runners from around the region. For some, the mark of a club is how it performs at this and similar events. Steel City Striders was represented here for the first time since 1990, and for the first ever time in the women's competition, so in many ways just getting to the start line was a success. However, with the likes of Olympians Ross Millington (10k PB 27:55) and Tom Lancashire (5k PB 13:34) representing their clubs, it was a chance for Striders to take some impressive scalps. We'll come on to how that worked out shortly.
The setting for the race was Birkenhead Park, of which Central Park, New York is an inferior copy. Relay legs were either short or long, one 4k lap of the park or two. Some claimed to detect a gradient here or there, and rumours of headwinds circulated, but it was basically a fast, open course where there was no excuse to hold back. Teams gathered in the sunshine with their club tents, and then dispersed around the course to offer passionate support to flying or fading team-mates.
Ben Jones had the honour of leading out the first leg for the Striders men's team. He ran well, but as others would too got sucked in by the occasion and the quality of the field around him, and had to dig deep at the end to pay for his early pace in pain rather than time. After a solid leg against the strongest runners the region has to offer, he handed over in 49th place out of 59. With other teams having burned their superstars early on and lacking the depth of the Striders squad we were well-placed to move up as the race progressed.
Ronan Charlton was up next, and picked off runners from Keighley & Craven and Bingley Harriers. He handed over to Alasdair Menmuir, down from the fells for the day, who clawed his way past Holmfirth Harriers. Sam Nunn passed Chorlton, St Helens and the mighty Salford Harriers (admittedly their 'C' team). It was all coming together.
Matt Rimmer then put on a demonstration of why running form matters. At the end of a powerful long leg, as spent runners flailed around him, he surged imperiously up the hill to the finish, gaining two more places for the team. By now, the field was spread out, and David Whittaker's strong leg 6 could only consolidate our position. Making more ground would be tough, but with Tom 'Big Fish' Halloway to come it wasn't over yet.
Tom stuck with the strategy that had been serving us so well: set off at a suicidal pace and hang on. His leg finally got us past and well clear of Penny Lane Striders, who Matt Rimmer had come within seconds of overtaking two legs earlier, and dragged other teams in front back towards our grasp. Hal Roberts then lined up Penistone for Tim Holt, who dispatched them. Next, we unleashed Tony Ker.
Tony clearly thought, despite us being back in 44th place, that the win was still on, and set about making it happen. Awestruck runners from St Helens, Liverpool, Wesham, East Cheshire, Bury, … too many to list them all… might as well have joined the crowds that lined the course and stood and watched as Tony sped past them all in our fastest leg of the day, 13:07. Sadly the gap to the leaders of 27 minutes and 34 seconds proved just too much for him to close within one 4k lap of the park, but our relentless forward progress continued.
To round things off, Kendal were then fed to Alex Shepherd and Eden to Tom Bassindale, who powered home through a tunnel of cheering Striders to deliver a very creditable 36th place.
Alas, due to some quirk of mathematics, 36th place wasn't quite enough to get us into the top 25 and so earn us a place at the Nationals, but we'd all run well, had fun, and soaked up the experience in preparation for next time. Our time of 3:43:35 was a little off Lincoln Wellington's winning time of 3:11:31, but close enough to the 3:35 needed to qualify to see that as a target to go after in future years. Full results from the men's race are here.
| Leg | Distance | Name | Time | Team Position |
| --- | --- | --- | --- | --- |
| 1 | Long | Ben Jones | 28:39 | 49 |
| 2 | Short | Ronan Charlton | 13:43 | 48 |
| 3 | Long | Alasdair Menmuir | 28:50 | 51 |
| 4 | Short | Sam Nunn | 14:11 | 48 |
| 5 | Long | Matt Rimmer | 27:58 | 46 |
| 6 | Short | David Whittaker | 14:08 | 46 |
| 7 | Long | Tom Halloway | 26:49 | 45 |
| 8 | Short | Hal Roberts | 14:15 | 45 |
| 9 | Short | Tim Holt | 13:47 | 44 |
| 10 | Short | Tony Ker | 13:07 | 38 |
| 11 | Short | Alex Shepherd | 14:01 | 37 |
| 12 | Short | Tom Bassindale | 14:07 | 36 |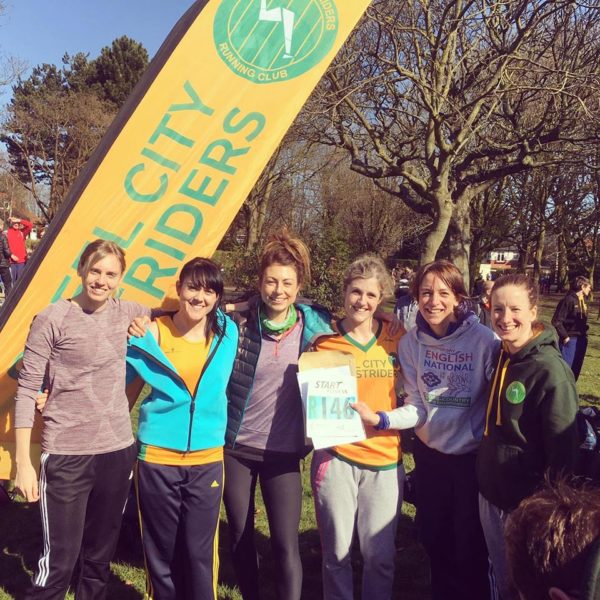 The real success of the day, though, belonged to the women's team. Ashleigh Barron went off first, and in a strong field set them up well in 27th place out of 55 starters. As with the men's team, we had strength in depth, and were an unstoppable force working our way through the field. For months to come, all around the north, runners will be waking up in a cold sweat from dreams of Striders closing them down.
Jen Rich followed Ashleigh with a blistering short leg in 14:16, gaining 7 places. Jeni Harvey held us in 20th, before Rio picked off Bury AC to gain another place. Sale Harriers and Barlick Fell Runners succumbed to Charlotte Maddix who launched Caroline Brock onto the final leg in 16th place. Caroline set off with Holmfirth and Blackburn in her sights, but by the finish they were minutes behind her. 14th place was ours in a time of 2:03:54, behind winners Leeds City AC's 1:47:49 (the full women's results are here). The women will now have the chance to represent the club at the Nationals in a few weeks' time and will no doubt do us proud.
| Leg | Distance | Name | Time | Position |
| --- | --- | --- | --- | --- |
| 1 | Long | Ashleigh Barron | 31:29 | 27 |
| 2 | Short | Jennifer Rich | 14:16 | 20 |
| 3 | Short | Jeni Harvey | 16:07 | 20 |
| 4 | Long | Rio Cooper | 31:48 | 19 |
| 5 | Short | Charlotte Maddox | 15:45 | 16 |
| 6 | Short | Caroline Brock | 14:29 | 14 |
This is an event that we've tried and failed to put teams together for before, and it was great for the club to be represented this year. In a sport where we're used to competing individually, the chance to be part of a team is something special. Everyone who took part enjoyed it and wants more, so hopefully this will kick-start participation in this and similar events.