The Percy Pud organising committee were thrilled with the level of interest generated by the photo competition and that high interest lead to a difficult job in choosing a winner.
Voting within the committee went down to the wire, but one photograph stood out for us. It captures the fancy dress element of the day whilst supporting Sheffield legend John Burkhill (the man with the pram).  Note, the police officer was real, not a fancy dress impostor. LOL.
You can support John and Macmillan using the following link: https://www.justgiving.com/fundraising/madwalker
Competition Winner – Kev Dunnington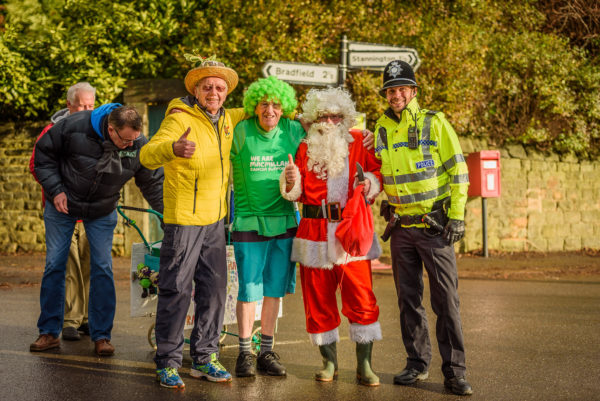 So Kev wins a bottle of bubbly for his efforts….. that'll be nice on Christmas Day we'd imagine.
We must thank everyone that took time to come down to the race to take photos and then submit them into the competition.
Those that didn't win, please don't be disheartened as the level of competition and quality of photographs was very high.
We really loved looking through them all and we a look forward to seeing you all again next year.