Race Date: Monday 27th August 2018
Race Report by Andy Norton
The podium 5k is a fast race in Barrowford, Lancashire especially for people to run fast times, the men's course record is currently 14:05 for a road 5k and there is a £250 prize for anyone who runs faster than that. There is an A race and a B race, the A race is for sub 18.00 minute 5k runners, achieved this year, and the B race is an open race.
The race is a loop course of around 1k so you do it 5 times – if the wind Is quite bad like it was on this occasion then you have to run into it 5 times.
Warming up for the race is like a who's who of runners seeing lots of ex- and current GB runners jogging about as well as watching. There isn't a toilet nearby so careful planning is definitely a good idea. We got there in plenty of time and I went out for a 2 mile jog up the canal for a suitable warm up, upon getting back I had a customary trip into a nearby bush to lose some racing weight.
The race started bang on time I assumed my Saturday night 19 hour stag do was slowing me down as through the first mile I was nowhere however it turned out that with a 5.12 first mile everyone was just absolutely motoring. I hit the 2nd mile in 5.33 so I knew I was definitely on track to beat my 16.54 time I ran at Hull Parkrun the weekend before last if I could hold it together. The wind on one side was definitely proving problematic and stopping me and others from properly attacking and striding out on that part.
The race was won in 14.46 by Nick McCormick (Morpeth Harriers) and the 1st lady was Jessica Piasecki (Stockport Harriers) in 15.55. I crossed the line in a time of 16.41 in a position of 37 out of 65 people with the last runner in the A race running 18.45.
A race report and results can be found here.
| | | | |
| --- | --- | --- | --- |
| Pos | Name | Cat | Time |
| 37 | Andy Norton | MSEN | 16:41 |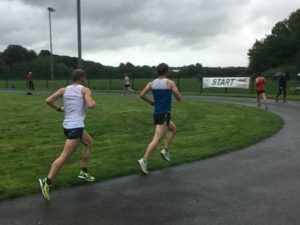 The only surviving photo of Andy from the night (pictured in the blue (!) vest). You can't admire his good looks in this shot, so just admire that excellent running form…