Report by Richard Pegg
Race Date: Sunday 8th July 2018
In Auckland a local running group inventively called Run Auckland organise a series of 6 race events. Each event comprises of a 10k Walk, 10k Run, 5k Walk, 5k Run and 2k kids dash. The final event has Half Marathon thrown in for good measure. Each event utilises one of the local parks using the same loop multiple times.
Luckily I found myself in Auckland on a Sunday when the 4th event was on in a park called Western Springs. The event has a parkrun vibe in that it is open to a wide range of running abilities and attracts a wide range of age groups from 5 years old right up to an 85 year old doing the 10k Walk.
So a real feelgood event. Unfortunately I did not feel good suffering from a bad cold. However, in nearly all cases, a good run sorts things out. So afterwards I felt a lot better. I ran a respectable 47 minutes, 58th Male and 8th in age group. I thoroughly enjoyed the whole event.
Note that also like parkrun the event has a t shirt for runners who do a race at all events. I blagged my way into purchasing one as a souvenir.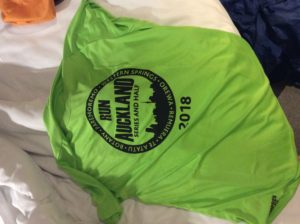 Richard was the only strider to take part out of 246 finishers. Unfortunately, the link to the 10K results is not working so we only know that the 1st man returned a time of 34:54 and 1st woman finished in 35:11.
The results page is here, in case the link is fixed!
| | | | |
| --- | --- | --- | --- |
| P | Name | Cat | Time |
| 80 | Richard Pegg | M50-59 | 47:43 |