Race Date: Sunday 16 December 2018
Race report by: Stuart Jones
The industrial history of South Yorkshire is present in many of the races we go to each year, often in the form of reclaimed landscapes and iconic abandoned buildings.
Last weekend gave me two such experiences, at Elsecar Heritage Centre on Saturday, and then running Kimberworth Striders' Santa Special on Sunday morning. Though the latter starts at Millmoor Juniors ground, you enter that premises through the gates to the former Grange Colliery. It closed in the mid-60s, employing over 800 miners at its peak production.
The route took in the wood alongside Droppingwell Lane, the former railway line to the colliery, the restored heaps and dumps, a small section of the Sheffield Way Relay Leg 1, a corner of the driving range and a bugger of a steep set of steps.
Short and sweet route, run mostly in fancy dress if you were placed any further back than twentieth; it had a low turn-out this year for some reason or other. Not the fault of the weather which was glorious. I drew lots of what I assumed were admiring glances for my red tights, red socks, red shoes, red t-shirt, red Santa hat combo- glad to have amused so many.
Two Steel City Striders only ran; while we won no prizes, we both finished on the first page of the results.
First: Liam Walker, Sheffield Tri Club, 29:42
First Female: Joanne Bolton, Kimberworth Striders, 37:42 (22nd overall)
First Strider: Stuart Jones, 38:20 (25th overall)
Second Strider: Adam Newell, 39:58
Results at: http://kimberworthstriders.co.uk/joomla3/index.php/2015-08-13-15-51-30/santa-s-special
| | | | |
| --- | --- | --- | --- |
| Pos | Name | Category | Time |
| 25 | Stuart Jones | M50 | 38:20 |
| 30 | Adam Newell | MSEN | 39:58 |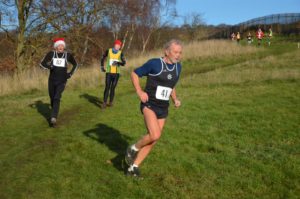 No photos of us – the locals are so parochial!