Race date: 8th April 2018. Report by Hal Roberts
Contrary to popular belief, there was more than one race last weekend, and as what seemed like the whole of this amazing running club were descending on the City Hall steps, two Striders were making their way to an even more iconic start line. Hal Roberts takes up the story…
A glorious spring morning sight-seeing round the streets of Paris – what could be better?
After months of plodding up and down the TPT in the snow, 26 miles of spring sunshine in Paris came as a bit of a shock to the system – it was around 20 degrees by mid-day which, although not quite as hot as previous years, certainly made drinking enough a bit of a challenge.
This must be up there with the best marathons for sights- starting on the Champs-Elysees, running past the Louvre, along the banks of the Seine, past Notre-Dame and the Eiffel Tower and finishing back within sight of the Arc de Triomphe is pretty special.
Support along the course was great, and in some parts resembled an Alpine climb on the Tour de France with the road getting quite narrow in places. Lots of strategically placed bands, drummers and brass bands kept it interesting, particularly around the parks at either end of the route.
The course is not pancake flat, and has just enough undulation to break up your pacing a bit, but it's hard to point to any "hills" in the Sheffield sense.
The race attracts a justifiably large number (over 42,000 this year) which means the course does feel extremely busy whichever pen you are in. As a result, there are probably faster races out there to do for pure PB hunting, but Paris is extremely well-organised considering the scale of it. I'd thoroughly recommend the race, and you get the bonus of a weekend away in Paris to boot.
This was my first marathon back in 2009 when I was still at university (and did not give the training the respect the race needed at all!) This time round, I was chuffed to shave a couple of minutes off the PB, and have a couple of weeks to "taper" for London now.
Helen, in her first marathon, came in a very respectable (just) over 4 hours and is already planning the next one….
The winner of the 2018 Schneider Electric Paris Marathon was Paul Lonyangata of Kenya, in a season best time of 02:06:25 and the first lady was fellow Kenyan Betsy Saina in a marathon best of 02:22:56
The full marathon results can be found here, and details of Strider glory is given below.
| | | | |
| --- | --- | --- | --- |
| Pos | Name | Cat | Time |
| 1367 | Hal Roberts | M | 03:05:14 |
| 14278 | Helen Burgess | F | 04:00:08 |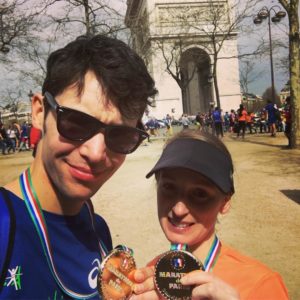 Hal and Helen showing off their bling in front of the Arc de Triomphe