Small Park Big Run is a unique running event that takes place in the hilly Meersbrook Park, now in it's second year. Supported by the Heeley Development Trust it presents a different type of challenge with 24 hours of running taking place around a 1km course in the park, starting at noon and finishing at noon the following day. The event was raising funds to support women's education and the Khuzaa children's healing project in Gaza, Palestine.
For the second year in row the Striders had a relay team across the entire event with at least one person running for each hour (including through the night). The total number of overall runners isn't published, but the organiser did report they were worried about running out of the 400 race numbers that had been printed. The relay 'baton' this year was again the olive branch from Palestine, passed from runner to runner each hour.
On the face of it, the course sounds relatively easy, but if you know the Park it's far from it. The hill itself is a 38 metre ascent within 400 metres peaking at a 20% gradient (all data is approximate from Strava).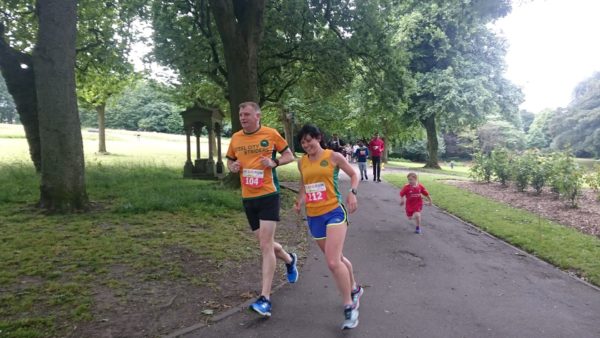 In all 32 striders had signed up to the 24-hour replay, but in reality there were a few more, particularly those involved with the recent 5K210k courses. Special mention to James Norton, who lapped the park an incredible 46 times!
In the final hour some of the Striders were able to give Sheffield's Lord Mayor Magid Magid a one-lap tour of the course, himself a former marathon runner.
In 2017 the Striders team achieved 299.6 laps of the course (not sure where the 0.6 of a lap came from) but this year a fantastic 326 laps were clocked up. No times or records of each lap are kept, but the laps were counted be each runner using a whiteboard. The results are shown below, please email Mark Norman if you think some of your laps (or your name) is missing from the list below.
The organisers are keen for the event to return in 2019 and hope to see the Striders back in action again then!
| | | | | |
| --- | --- | --- | --- | --- |
| Day | Start Time | Finish Time | Name | Laps |
| Saturday | 12:00pm | 1:00 pm | Andy Woffindin & Charly Maddox | 14 |
| | 1:00 pm | 2:00 pm | Andy Woffindin & Charly Maddox | 20 |
| | 2:00 pm | 3:00 pm | Magdalena Boo | 7 |
| | 3:00 pm | 4:00 pm | Caroline Greenough | 9 |
| | 4:00 pm | 5:00 pm | Martin Greenough | 12 |
| | 5:00 pm | 6:00 pm | Elaine Shortridge | 4 |
| | 6:00 pm | 7:00 pm | Alan Dalton | 9 |
| | 6.30 pm | 8.00 pm | Nick Burns | 16 |
| | 7:00 pm | 8:00 pm | Catherine McKeown / Zoe / Vicki | 24 |
| | 8:00 pm | 9:00 pm | Daniel Murphy | 10 |
| | 9:00 pm | 10:00 pm | Mark Norman | 10 |
| | 10:00 pm | 11:00 pm | Richard Copeland & Emma Kingston | 15 |
| | 11:00 pm | 12:00am | Matt Barton | 9 |
| Sunday | 12:00am | 1:00 am | Matt Rimmer | 13 |
| | 1:00 am | 2:00 am | Guy Woodcock | 11 |
| | 2:00 am | 3:00 am | Arif Ali | 19 |
| | 3:00 am | 4:00 am | Ben Clithero | 21 |
| | 4:00 am | 5:00 am | Joe Buckman | 14 |
| | 5:00 am | 6:00 am | Stuart Jones / Ben Stittle | 13 |
| | 6:00 am | 7:00 am | Ben Stittle | 21 |
| | 7:00 am | 8:00 am | Tom Bassindale / Louis Wood / Andy Buck | 23 |
| | 8:00 am | 9:00 am | Magdalena Boo | 3 |
| | 9:00 am | 10:00 am | Ellie Cooper / Jude Bissell / Megan Ohri | 15 |
| | 10:00 am | 11:00 am | Richard Adams | 10 |
| | 11:00 am | 12:00 pm | Ashleigh Barron / Tim Ryan | 19 |
| | | | Additonal Lap with the Lord Mayor! | 1 |
| | | | TOTAL | 326 |
More photos from the event below: