Race Date: Sunday 2nd September 2018
Race Report by Letty Hancock
The South Cheshire 20 is described as "20 miles of frequently hilly, mainly country lanes" with "excellent support and regular drink stations". I ran it this year with my sister as part of her marathon training for Chester, having previously run it last year when I was training for York. It is excellently timed to make part of a plan for both of these marathons, but is also a great run in its own right.
The 20 mile route takes you out for around 4.5 miles, then loops around Cheshire villages before heading back to the start. It is run on open roads, most of which are very quiet, but it does include a decent stretch along a small path on a verge adjacent to a 50mph road.
Last year this race was the first time I was planning to run 20 miles, and I went into it with a sense of trepidation and seriousness, needing to get the miles in before the marathon… but this year was a little different. I signed up (possibly a little stupidly) with only 2 weeks notice, having done very few long runs over the summer, and no 20 milers for a year. I added to my fantastic preparation by having a few too many on the Friday evening, so it was safe to say I wasn't feeling too keen on the morning of the race. I briefly considered not going, but the fact that I had promised my sister that I would keep her company meant that there was no way that I was not going to run.
I was so glad I did it. I highly recommend this race; enough undulations to keep Sheffield's runners happy, excellent value, and wonderfully supportive and friendly marshals. The weather was a little warmer than anticipated, and the support on the course was brilliant in checking everyone was keeping well hydrated. Don't expect any big crowds of spectators, and don't be too surprised if you find yourself running and not being able to see another runner ahead of you (well, if you're running at the chatty pace that we were anyway). However, definitely do consider this race for a friendly, low key, marathon training run… or just if you fancy doing 20 miles to see if you still can!
Results:
First male: Will Mackay, Bedford and County AC, 1:54:20
First female: Katherine Cousins, Lancaster and Morcombe AC, 2:19:19
Lone Strider!: Letitia Hancock, Steel City Striders, 3:23:17
Official results can be found here.
| | | | |
| --- | --- | --- | --- |
| Pos | Name | Cat | Time |
| 150 | Letitia Hancock | FSEN | 03:23:17 |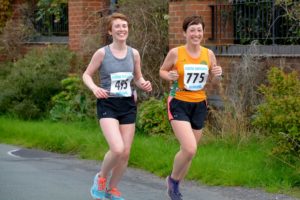 Who would have guessed they were sisters?