Spen Greenway 10K Road race, incorporating Northern Masters 10K Championships
Sunday 16th September 2018.
Race Report.
I like a small, local, friendly event, full of enthusiastic runners of all ages and abilities supported by partners, kids and passers by so this race in Cleckheaton last Sunday was just right with only 138 runners.
The NMAC runs a series of events throughout the year on track and road and occasionally on fell. This one was attached to the local club in Cleckheaton. It's an out and back course along a tarmac surfaced disused railway line, only 270' of elevation and of course, traffic free. My last Championship 10K was hilly and done in sweltering temperatures so it was refreshing to try a cooler and flatter course of the same distance.
My goal was to knock a couple of minutes off my BMAF 10K time of 49:32 set six weeks ago in Stoke. I was aiming for just under 8 minute mile pace, trying to keep my heart rate down. For those of you who know and have run with me I appear only to have two settings, stop and go. As soon as the signal was given I set off in my usual startled ferret fashion as if my life depended on it, rattling the first mile out in 7:12. Trying to keep my heart inside my body I sensibly eased off for the next two before the turn. Then it was a case of homeward bound so up went the HR and the pace. The last half mile was a ragged affair, just trying to hold it all together.
I'm pretty delighted to have earned my season's best time of 46:14, knocking more than three minutes off my previous race and averaging 7:24 minute mile pacing, though average HR was through the roof at 171bpm. It was enough to give me first FV65 and NMAC Gold. I later discovered thanks to Spreadsheet Superman, Mick Wall, that that time at that event at the World Masters competition would have earned a gold medal. Never mind. Cleackheaton is a fun place to be in September. Who needs Malaga eh?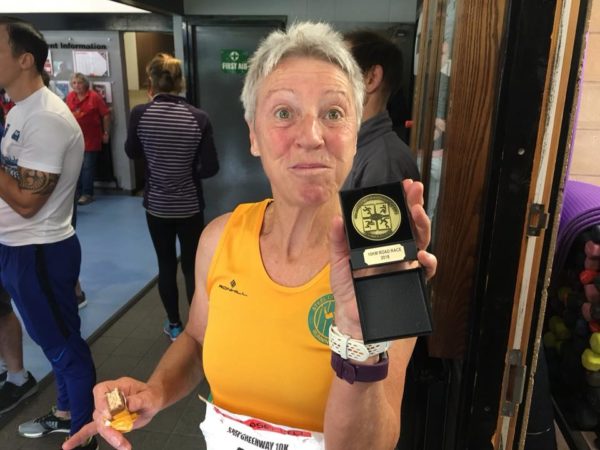 The NMAC 5K road Championships are on Sunday 30th September in Leeds. Join me if you fancy a three lap course on tarmac at the Brownlee Cycle Circuit.
Dot Kesterton
18th September 2018.