Race Date: Sunday 29th April
Race Report by Jim Danson
For the last two years we have tried to start a family tradition of meeting up to run a half marathon. After travelling south to Cheltenham to run my brother's local race for the last two years, we decided to mix things up a bit this year and head north to my sister's house in Linlithgow outside Edinburgh.
The inaugural Stirling Half Marathon was billed as a scenic and flat course, with organisation provided by the Great Run company.  Having already run the Retford, Monsal Trail and Sheffield halves this spring, both Kat and I were hoping for PB's on this friendly looking course.
After the heat wave of the previous weekend, the forecast looked much more amenable to running, cloudy, still and cool. Unfortunately the family tradition took a hit when we found out that both my brother and sister wouldn't be running with us, a lack of training and poor equipment being blamed for their withdrawals. My sister's partner Ian did manage to represent the home team and entered the marathon, held on some of the same roads, setting off an hour earlier than the half.
Saturday was spent sightseeing in Linlithgow, and managing hydration levels. The town tourist board advertises a pub crawl, the Linlithgow Trail, with a free t-shirt to anyone who manages to complete a visit to all eight pubs in one go. With the prospect of a PB in mind we only visited two of the pubs but made plans to come back again.
Waking up on Sunday with a clear head we made our way to Stirling. Parking was easy in the town centre, the race finish and start were within easy walking distance. The start was on the straight flat A82 underneath the imposing cliffs and castle. The marathon runners set off while we took photos and took advantage of the toilets and baggage buses. Despite the large numbers of runners the organisation meant that the queues were never too bad and we took advantage of the organised warm up before finding our start pens. Pacers were clearly visible and there were plenty of them around, all wearing bunny ears – you might guess the sponsor of the race.
The race itself started bang on time and the course quickly left the city centre before meandering past the football stadium, industrial estates and sewerage works. The course was flat and once out of town, on wide, straight open roads. This meant holding a steady pace was easy but was a little boring, too. Ian told us that the first half of the marathon course headed through three or four villages and had a good atmosphere with plenty of spectators. The second half was much quieter with the only atmosphere provided by the local farmers who had taken the opportunity to spread their stocks of winter slurry all over their fields. Word also had it that the beautiful house we all spotted on the second half belonged to Gabby and Kenny Logan.
Approaching the city centre with 3km to go my watch showed that I was on course for my PB and I was feeling good. Approaching the park and finishing area, the slight incline we had walked down 2 hours earlier appeared to have changed into a 25% climb albeit with pretty daffodil embankments and cheering crowds. Worse still, despite my watch saying I had covered the distance, the signs told me there was still 400m to go. I managed to keep going and staggered over the line, bagging a PB by nearly 3 minutes.
After collecting my goodie bag and kit from the baggage drop I was able to get to the finish to see Ian and Kat both finish their races, both smashing PB's as well. Kat also made acquaintances with the friendly 2:20 pacer, who kept cheering everyone on and whose son coincidently studies in Sheffield – but runs with a different club (we won't mention the name). While there were a few issues with the course, quite a few runners mentioned that the half marathon course seemed to have been too long, this is definitely a race to enter to target a fast time and has good friendly atmosphere.
P.S. For those who know us well and expected another hilarious race number incident, we have to disappoint you – this time everything went smoothly. Another achievement for us!
2518 runners completed the inaugural Stirling Half Marathon. The winner was Michael Crawley from Corstorphine AAC in 1:09:33, and first Lady was Sarah Brown from Edinburgh Athletic Club in 1:26:58. The full results can be found
here
.
| | | | |
| --- | --- | --- | --- |
| Pos | Name | Cat | Time |
| 80 | Jim Danson | MV40 | 01:30:14 |
| 2169 | Katja Danson | FV35 | 02:25:19 |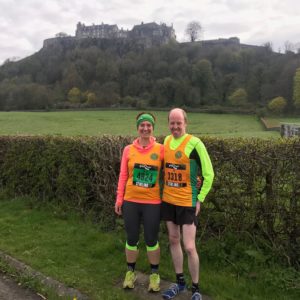 The Dansons, posing in front of Stirling castle and looking pleased with themselves after managing to get their race numbers the right way round