Race Date: Sunday 14 January 2018
Race report by Adam McAuley
The Temple Newsam Ten returned on Sunday 14 January 2018 for its third year. This event has become an established part of the running calendar in Leeds; a really big turnout from lots of West Yorkshire clubs, and sold out the 1,000 places available in October of last year . Hosted by St Theresas Athletic Club (no there's no apostrophe, much to the annoyance of Adam Briggs) they promise 10 miles of beautiful off road terrain that visit parts of the Temple Newsam estate you didn't know existed. That's mostly accurate, though I'm not sure the long stretch past Leeds' main land-fill site entirely fits that description. It's always muddy, though less so this year than in previous years, and it certainly undulates, with one particularly nasty little hill just before the end of the race. The organisation is first class; parking is easy and free, number collection works very smoothly and the course is really well marshalled, in terms of both numbers and enthusiasm. The goodie bag's not bad either – a servicable boot bag, a decent quality technical t-shirt and a random flavour of Seabrook (well it is West Yorkshire) crisps (mine were curry, Briggs were cheese and onion, you'll have to ask Zoe if you want to know which flavour she bagged) were the highlights.
This year, the men's race was won by Philip Boynton of Horsforth Harriers in a time of 1.02.26. The women's race was won by Kate Corcoran of Jackpot Racing in a time of 1.11.43.
Three Striders took part, in a field of 808. Bonus points to Zoe for spotting the two Adams at half way and providing a robust 'Go on Striders!' across the muddy fields of south-east Leeds.
| | | | |
| --- | --- | --- | --- |
| Pos | Name | Cat | Time |
| 72 | Adam Briggs | M45 | 1:15:32 |
| 79 | Adam McAuley | M45 | 1:16:26 |
| 693 | Zoe Dickinson | F40 | 1:53:59 |
Full results can be found here.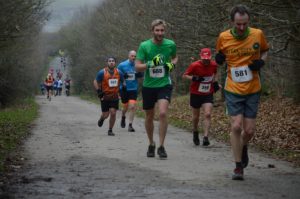 Head down, grit your teeth and the hill will be over before you know it…