Race Date: Saturday 7th April 2018
I started running 6 years ago because I saw my husband doing the West Highland Way Race and I decided that, having never ran before, I wanted to run ultra-marathons. Mid life crisis? Probably, but its way cheaper than a motorbike…I think.
The Kielder Ultra was my first ultra 3 years ago. In 2015 I did it in 8h 34 minutes. Since then I've done 13 ultras, including the West Highland Way Race last June. I've secured a place in the WHW this year too, so I've entered several other ultras as training for the big one again.  I was excited about doing Kielder 3 years on as I was interested to see if I'd improved over that time.
Ultra PBs are tricky things. Every course is so different. The conditions can vary hugely. You can't really have a 50k PB in the way you'd have a road half marathon PB. Yet I knew this was the same course and I knew I'd done A LOT of hard work in the 3 years since I ran it.
I really respect an ultra runner called John Kynaston. Like many ultra runners, he knows that so much of your performance is rooted in the psychology of the situation. He suggests setting 3 targets for a race so that if your plan goes to pot you have other plans to draw upon to help you not implode, which could lead to a DNF.
I'd set myself 3 targets for this ultra:
Bronze: Finish smiling having thanked every marshal.
Silver: Finish running and be able to get up the next day and run again, ideally a proper back to back.
Gold: Finish somewhere between 7.30 and 7.45.
My parents live in Northumberland so I stayed with them the night before the race. This meant I could get up around 6am and eat breakfast on the way as my Dad was dropping me off at Kielder Castle. I ate porridge, seeds and honey and some high fat greek yoghurt with shed loads of coffee. The weather seemed perfect.
I registered and chatted to a few people who I recognised from Hardmoors events. We had a quick race briefing, and I was very glad that at the last minute I'd printed off the route map. This course was marked yet I remembered getting lost in 2015. I was annoyed at myself for being a bit blaise and not putting the gpx file on my suunto. I'll not do that again.
We set off and I was comfortably running and chatting with those around me. There was alot of ascent on the course, but not any really steep climbs. There was a really good fun descent to the first checkpoint, and that was where I began to realise that I was a better runner than 3 years ago. Other people were struggling with the bog, mud and varied trail underfoot, yet I felt really confident. I've worked hard on running form going downhill to avoid injury, so I tried to put all that I'd learned in action. It felt great! I was delighted when I got into the first checkpoint. As it was only a 30 mile run I was in and out of the checkpoint in around 4 minutes – I topped up my drinks and ate some fruit. (I really don't get on with sweet foods over long distances. I'd brought my own sandwiches, satsumas and some salty chia seed flapjacks. Too much sweet stuff makes me very nauseous later in the race. Same with drinks. Coke is a killer for me. I'm better with just water and bitter squash like lemon. No gin though. That'd be silly)
I phoned my parents as I got signal going over Kielder Dam. I was going way faster than I thought I would. It was great asking for an earlier pick up.
I headed back up the side of Kielder Water, knowing I was around 1/3 of the way round. As I went through some areas where there are boating clubs and cafes, I realised someone had tampered with the signage. There were no arrows at any of the junctions at all. I got the map out and tried to keep my wits about me. I then saw some pink signage taking us off the main trail so I obediently followed it. It took me about 200m down a steep slope to the water's edge, and no obvious trail. I stood for a few seconds and looked behind me. The same signage was on the back of the trees leading me back up to the main trail. What a hilarious joke for someone to play. Not. I did all that I could to not allow it to knock me psychologically. I saw another runner up ahead and caught up with him. He and I discussed the lack of signage; and he had the gpx on his watch. I cursed myself silently for not loading it up. As I said before, I'll never do that again.
We continued along and it began to rain…drizzle…shower…pour. I stopped to get my water proof out then I kept walking up a steep section while making sure I ate and drank again. I was no longer feeling so great. I was really annoyed at the stupid joke diversion and it had reached the point in the race where the field was so thinned out that there was no one in front or behind me.
I sang a bit to myself and checked my pace. I was still going way faster than previously, so that perked me up a bit. I set myself the target of going under 7h30 and gave myself a bit of a talking to.
There was a long, slog of a climb up and deep into Kielder Forest. It was a bit Blair Witch (showing my age) but again, I just kept talking positively to myself! There was another fun descent and my pace was still very healthy so I kept going, even running some of the inclines that I previously would have walked. I knew the next checkpoint was coming up at 22.5 miles, which was good as I was virtually out of food and drink. (Looking back, I can see that I was working at a harder intensity as I was needing to drink an awful lot.)
The lead man in the 100k race ran past me at around 21 miles (they started 3 hours before us, so he was going some lick!). This was actually quite nice as I realised I may see a few more people! I trotted into the last checkpoint which was at around 22.5 miles. I was surprised to see 2 other 50k runners in there. They'd been there a while and were struggling to get going again. I scoffed some cheese rolls, topped up with water and squash and set out again.
I realised I was still running comfortably. I kept drawing on all these positives to keep me going. There was a fun, technical section along the river, then I joined a mountain bike trail before re-joining the main Lakeside way trail around Kielder. I passed several other racers who were struggling yet determined to finish. There's no shame in walking. If you're moving, you're racing.
I then realised that I could do this race sub 7h15. I hadn't banked on 2 things… Firstly – a 50k race is 31 miles, not 30. Secondly, the biggest climb of the race was saved for us until the end! I passed through 30 miles at around 7h05 and I was delighted. Until I realised I had a *bonus* mile.
I ran into the finish seconds ahead of the winner of the Ladies 100k race! I was delighted with my time and my family were there to take me home.
I know this was a PB for me on this course. It's actually around 2minutes 15 secs per mile. I realise that's an improvement over 3 years, but I'll take that. I also got up this morning and went out for a run. It was a recovery run, I couldn't call it a back to back…yet part of improving as an ultra runner is looking at the speed of your recovery. All in all I'm really encouraged. I actually met all my targets for the race, which is unusual and feels fantastic! It's inspired me to crack on with the next 2 months of intense training for the West Highland Way.-
Things I learned from this race:
Always load the gpx file on your suunto…
Make use of drop bags.
Put on your waterproof as soon as you think, 'I wonder if i should put on my waterproof?'
Don't trust the weather forecast.
Wear sealskinz after months of rain (I was so glad of my sock choice!).
Spare gloves are brilliant.
So are Hokas.
There were 135 finishers in the 50k. The race was won by Ben Hamilton in 3.43.37. The first woman home was Lynne Allen in 4.31.35.
Striders Results:
| | | | |
| --- | --- | --- | --- |
| Pos | Name | Cat | Time |
| 113 | Nicole Brown | FV 40 | 7.19.48 |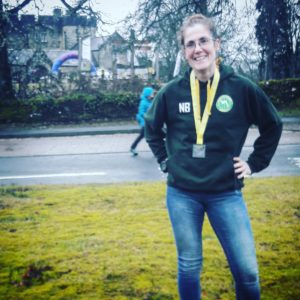 Full results: here