Race date: 20th June 2018
The race is held as part of the Gala Sports night, which hosts a range of other activities as well as the adult trail race.
The Chase commences in Coronation Park, proceeds uphill by road to Wharncliffe Woods, loops through the woods and finishes back in the Park. The distance is approximately 6km with 180m of ascent. Basically a fell race without a plateau (as described by our very own Gold Star). It certainly was a really lovely route through the woods, on a lovely evening. The race was won by Joe Sweetham Powell of Rotherham Harriers in 21.56, first lady home was Laura Gill of Penistone FR and AC in 25.59.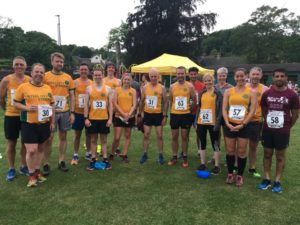 Fourteen Striders ran the race, including some great performances at the sharp end of the field – well done to all!
| | | | |
| --- | --- | --- | --- |
| Pos | Cat | Name | Time |
| 2 | M | THOMAS MEAGER | 23.05 |
| 4 | M | JOHN COOPER | 23.51 |
| 12 | MV40 | AL COOK | 25.50 |
| 16 | FV40 | CHARLIE NAVOZANSKA | 26.23 |
| 17 | MV40 | STEVE SMITH | 26.49 |
| 26 | M | STEVE CLARKE | 28.31 |
| 30 | MV50 | CLIVE DOWNING | 29.06 |
| 31 | MV40 | ADAM MCAULEY | 29.07 |
| 47 | MV60 | GRAHAM COLIN HAGUE | 30.55 |
| 52 | MV40 | LOZ HARVEY | 31.39 |
| 53 | F | HEATHER WALLIS | 31.56 |
| 58 | F | HELEN JONES | 32.53 |
| 63 | F | NAOMI RABIN | 34.23 |
| 75 | MV40 | CAMERON BLACK | 38.11 |
Full results available here