The Trunce has arguably been the Striders success story of recent years.
Fixture 1 in 2014 saw just 4 Striders take part, but in recent years there are regularly 25 amongst the 250+ in attendance at each race.
For the uninitiated, The Trunce is an offroad race that takes place 9 times each year.  The first race is soon after the clocks go forward and they usually continue into September. Each race is on Monday night, starting 6:45pm at Oxspring, near Penistone. It really is a great introduction to fell racing bridging the gap between trail and fell.
The fell aficionados may well argue that it's not a proper fell race, but as it's mentioned in the classic fell running book 'feet in the clouds' and its run under FRA (Fell Runners Association) rules and regulations it will do for us.
You can call it trail, you can call it fell, but regardless, It's a great taster to offroad racing and is great fun.
The course is just 3.8 miles comprising of farmers tracks, trails, 3 river crossings, over hills, down through woodland and even some tarmac to keep the road boys and girls happy.
It's well marshalled, well marked and almost impossible to get lost, making it great for newcomers.  You can just follow the crowd.
You can view the course and profile on Strava.
Kit requirements: At a push you could run the race in a scraggy pair of road shoes, but trail shoes are recommended and sometimes fell shoes when the course is very wet.
We would also recommend taking a spare pair of shoes, socks and a towel for the drive home as you will probably end up with wet and muddy feet.
We've enjoyed The Trunce so much in recent seasons that we've brought it into the Striders Fell Race Championship with your single best time from this season counting for the purpose of the championship.  So if you run it all 9 times you get 9 attempts for a great time with your best counting.  But running just once gets you a time and those all important 10 bonus points for running.  Note: running 9 times does not get you 9 x 10 bonus points.  Just a single 10pts.
Parking is more than plentiful on the playing fields next the Waggon and Horses pub (S36 8YQ) with toilet facilities available in the pub. Not to mention the opportunity to grab some food and drink afterwards.  As you approach along Sheffield Road, the turning (red line into the small car park) comes upon you quickly on the left, so be careful.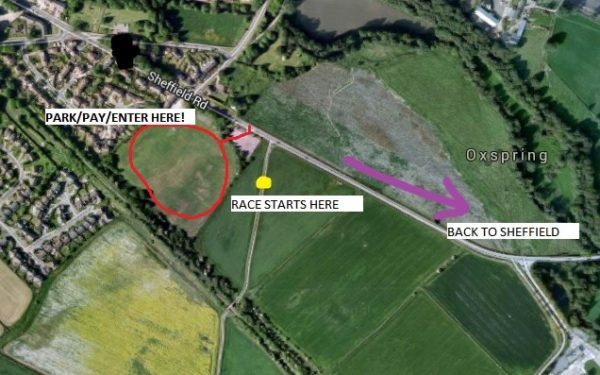 Finally, the best thing about The Trunce?  Its just £1.50 per race to enter.  Talk about value for money?
You can just turn up and enter on the night, no commitment. If you've never entered before,  you can simply register when you pay.  You will be allocated your Trunce number and this number is then yours for evermore to bring to each Trunce race you enter, so keep it safe.  In future races, just bring your number and show it when you pay your entry fee.  All very straightforward.
For more information, please see The Trunce website where they keep their own results etc and even hold a season long competition involving bonus points for finishing positions and PBs.  Well worth a look on there.
Here are the dates for the 2018 season.
Race 1 – 26th March
Race 2 – 16th April
Race 3 – 30th April
Race 4 – 21st May
Race 5 – 11th June
Race 6 – 2nd July
Race 7 – 23rd July
Race 8 – 13th August
Race 9 – 3rd September (Fancy Dress)
To give you a feel of the race, here are some terrific photographs taken by Mossie Net Photography