Saturday 25th August 2018, report by Stuart Jones
I'll try to write this report backwards – recommendation and results first, personal and other Striders achievement, description of route next, highlights near the end and then the personal raison d'etre at the end.
Quite simply, you have to go to Ireland and run something beyond the big city. Dublin has its own monster big-city Rock and Roll race, but the real fun and fulfilment is in the towns and villages. Tullamore will call very strongly for return visit in 2019 – this race was brilliant in absolutely every aspect. In fact, if anyone wants to come along with me…
Everyone I met was lovely – bag droppers, registration desk, every other runner, marshals, water handlers, pacers (three for each time division), finish staffers, caterers and so on. When you run by yourself, in events where most are with Clubs, you can feel like the proverbial third-wheel, but folks were chatty and welcoming. Imagine Steel City Striders ran a half marathon – it would be like this.
The race is organised by Tullamore Harriers. Tullamore is the county town of a county you've never heard of, Offaly. It had just 14,500 residents at the last census. The Harriers have a track facility like Woodburn Road if you add on a sports hall, gym, monster car park, grass track, club house, 'nite club', communal showers, sweet shop, all-weather pitches and extra throwing cages. Quite unbelievable. The atmosphere, as mentioned earlier, was superb; it felt like home.
In the race information it suggested an undulating course, but this was PB-potential countryside; rural built on the 15,000 year-old peat bogs, and so it turned out. I've been running for years and years but 1 hour 35 minutes and the 16 seconds is my new, all-time Half Marathon personal best!
I was the 165th finisher, out of 811 finishers (plus a load more in the relay), 150th male, 20th VM50. I may also have been the first UK-based finisher – no wonder they were surprised to hear I'd come over just for the race. There should be more.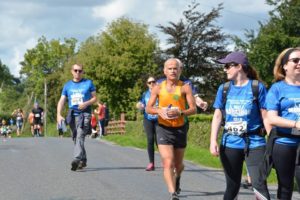 At halfway, picking up water as relay runners 'tag'
Further evidence of a fast course:
First male, David Flynn of Clonliffe Harriers AC in 1:08:44
First female, Aisling O'Connor of Edenderry AC in 1:21:21
Winner of the Quinlan Cup (first team of four), Newbridge AC in a total place score of 81 and a time aggregate of 5:05:45
There was a road-closed circuit, starting just outside the Harriers stadium. As the runners assembled, Pacers got into position; there were three for each time band, in five-minute intervals. Each trio ran shoulder-to-shoulder and attracted the usual crowds. They had interesting cloth arrangements, like an 'athletic support', to hold the simple flag. Effective, light-weight and durable.
I had had a race-heavy lead in to this race (Trunce, Eston Nab, Pilsley) and didn't really fancy my chances. At the same time I knew I would be very disappointed to go slower than 1:50, so I stood behind the 1:45 pacers and set off with them. I planned to stay with them and, if feeling good near then end, I'd try to push on to get my usual 1:44.
What I had not thought about and planned-in was my 'racing claustrophobia'. I just find it hard to sit in a tight group, particularly if I am holding back. Within 550 yards I had skipped out, round, between and past the Pacers, and then caught up with 1:40. This, I knew, was ridiculous but they had split apart slightly and the front man was going my sort of speed. I slid on.
I stayed chatting with them about preparing for pacing and how many times they had run the route in advance and how confident they were in their accuracy and what the route entailed.
Then we passed a castle, as you do; all turrets and crenulations.
And I slid on.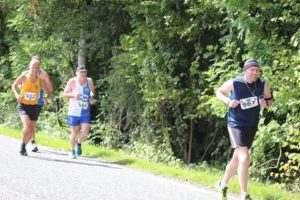 Effort at 11 miles
Next conversation was with a strong-running Portlaoise athlete. She hoped to beat 1:45 as preparation for the Dingle Marathon, first Sunday in September. It is one on my 'bucket list', but the five-hour drive back to Dublin the day before school term starts just makes it too difficult just now.
I told her that the 1:40 Pacers were behind us, to take it easy, and I slid on.
We ran through places with great names – Mucklagh and Killurin and Charlville Forest, and by Screggan Bog. There was water available frequently, far more so than I needed, even with my over-heating experience at Liverpool in May. I waved, thanked and slid on.
One stretch was troubled with flies. I caught myself muttering and cursing at them with a vague, preposterous and possibly upsetting pseudo-accent akin to Father Jack. They did not make me any faster.
A young, tall lad, who had been using me as a target to stick to for the first ten miles, had a go on a slight downhill and tried to move ahead. By this point I was no longer chatting. I was grimacing and very much aware of my chances of a PB. Sheffield hill-work quickly reined him in as soon as we got to the next up-slope and I slid ahead, not to see him again until after the finish.
The warned-of 'hill' at the golf club did not materialise – I think I had simply misheard – but I wouldn't have had anything left to attack anything with anyway.
After a quick shimmy across the held-up traffic on the one shared-use bit if road (like Liversedge but entirely safe and sorted), it was just a mile and a half run-in to the town and one lap of the track. That last mile was an effort – I was spent, I thought. My pace dropped off for a hundred metres or so, but the mind is strong (enough) to drag up a little something. This is what we do: we run when we are done.
Seeing as I have known I had a final lap of the track to do I should have done some track work, I guess. 400 metres is an awfully long way at this point and there was simply no way I could speed up. There could be no sliding on, just pushing on.
We need to borrow their mic man for all our track events – he talked non-stop for at least two hours at the finish.
You have never seen a buffet at this scale.
Our bags got bagged and labelled, and returned at high speed.
There were showers on-site for after.
The t-shirt is excellent, and I really do mean that (I'll be wearing mine tonight at Heeley).
Transport from DSA to Dublin gave me a day in the big city (like a Stag / Hen do) and a day of holiday-making on the Sunday before a late return.
The Pope was in town the same weekend, but I cannot see his name on the results page.
The Pacers were 0.16% of their target times.
The Tullamore DEW visitor centre is a good visit and I'm told that the tasting is great.
  Approaching the finish line
Last year I designed my summer holiday round a Half at Clonmel, in County Tipperary. It was fabulous. I promised myself to make it a tradition and so I found this race for this year. This was just as good, and possibly even better.
If I was writing just a one-word report it would be, in Gaelic, 'den scoth'. Okay – that's two in Gaelic, but translates to one in English.
Slàinte!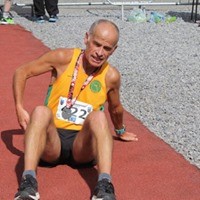 Time for a sit down, and then some cake
Full results here: https://www.myrunresults.com/events/tullamore_quinlan_cup_half_marathon_2018/2642/results
Seriously, if anyone wants to make a team and join me next year it would be a guaranteed great event.
The Tullamore Half Marathon is also the Leinster Road Half Marathon Chamionships.
The winner happens to be Irish national champion. The prize money was good.