Race Date: 28th October 2018
Excuses section
The journey to the startline of my first road marathon has not been an easy one. In the 15 months since completing the 2 day 100K Ultra Race to the Stones (and of course not forgetting the Beer Mile), the running gods have been very much against me.
Due to numerous Gout attacks, Arthritis and other related injuries I've managed only 7 months running, mainly in 6-7 week bursts, even my 16 week marathon training plan started at week 2 after 7 weeks of physio and no running.
OK, enough excuses I hear you cry. So mainly on 3 runs a week, cycling (much thanks to David "Gear Whisperer" Maloney), Pilates and a few emergency sports massages. I managed to get myself to the start line without any further injury issues, and a sub 4 hour marathon for my 50th Birthday Venice weekend was the aim.
The Race
The Venice marathon runs from Stra (near Padua) into Venice, so we based ourselves in the much ignored yet beautiful city of Padua. 3 days of tiring sightseeing, a cold I couldn't shift and a terrible weather forecast and Venice high tide warning for race day had definitely given me a case of maranoia.
Race day arrived, as did the torrential rain, Lisa (long suffering wife) got off on a train to Venice, and I headed to the startline at the magnificent Palladian Villa – Pisani on the River Brenta.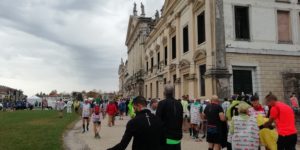 Race headquarters was pretty well organised in that crazy Italian chaotic way and I'm sure it would have been perfect if my Italian language skills were better. During my warmup the rain stopped and the sun came out, and I feared it was going to be too warm rather than a washout. The start pens were well organised, and I got myself in position near the 4 hr pacers.
Once the race was was underway, I settled into a nice steady 5:30/km(ish) pace and we followed the river towards Venice-Mestre, passing a number of lesser Palladian Villas and small towns with great vocal support and very loud rock bands. The combination of my cold and the warm sun was not great but after 10k or so my breathing did seem to improve, but energy levels seemed a bit low.
By the time 15km was approaching the temperature was dropping and the wind was picking up. As the course approached half distance  we went through some industrial zones with very little support and I completed half distance in 1:57. A bit slow I thought, but still an outside chance of sub 4. On through the town of Marghera and up towards Mestre, including an interesting pedestrian subway section under the large Venice-Mestre train station.
It was just after this as we passed through Mestre at 26km that my right quad muscle starting feeling very tight, I noticed my pace starting to drop off and the 4hr pacers were pulling sightly away. I dug in and kept pace as we headed towards 30K and the park of San Guilano (home of the Marathon Expo) and also where I managed a short chat with friendly Totley AC runner – Richard (Bulmer?). As I passed the 32k arch I could see a strange course section that had a hairpin bend, that was when I remembered someone saying if San Marco in Venice was flooded we would do the extra distance in the park.
Km 33 saw us heading towards the dreaded Liberty Bridge (4km concrete rail/tram/road link to Venice island), a nasty headwind and no support. The 4 hr pacers were gone, and runners were dropping like flies, the concrete barriers seemed to offer excellent calf stretching for those who required it. I was determined I would not stop/walk, both quads screaming I plodded along at 6/6:30km, ticking off each km.
KMs 38 & 39 were through Venice docks passing the large cruise ships, I felt somewhat disappointed at that stage that we still hadn't yet reached "historic Venice". As we left the Venice Cruise Terminal area, rounded a tight bend and dropped down a ramp I was faced with the beautiful Venice quayside shin deep in water and waves crashing over the route (the "acqua alta" was at its peak), many runners gave up trying to run, I tried to run as much of the flooded last 3 km as I could, but sometimes it was too deep and wading was the only option. We also still had 11 ramped bridges to cross, but that was fun, at least they were dry!
I know those running for PBs were probably gutted, but as I knew sub 4 was out of the window and I was getting a PB whatever, I just had fun along those last 3km (I think the water must have provided a "trunce" like invigoration), the hardy crowd in their wellies was amazing.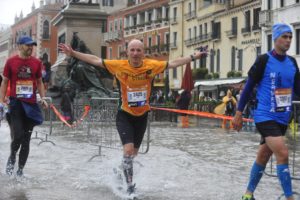 The 200m temporary bridge right across the Grand Canal was fantastic, and as I passed the very flooded Piazza San Marco I started to worry about Lisa (no wellies) and wondered where I would see her. I needn't have worried she had a great spot on top of the last bridge (although it had taken her hours navigating flooded streets to get there – no time for coffees or hand bag shopping!- no stereotypes here), and she gave me the last push to the line.
I finished in a chip time of 4:09:51, which if you'd given me before I would have been very disappointed, but bearing in mind everything that took place on the journey to the finish line, I was happy. And was happier still when I saw the finishing stats, my overall placing at the finish compared to that at 15k had improved by over 600 places (and I was 253rd MV50 out of 658), I guess I must have paced it pretty well and finished relatively strongly. A reasonable first effort I thought.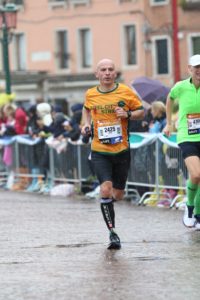 It was a fantastic experience.
The race winner Mekuant Gebre (ETH) 02:13:23 in and the ladies winner was Angela Tanui (KEN) in 2:31:30
Full race results can be found at http://www.huaweivenicemarathon.it/en/venicemarathon/runners-area/results-vm
Striders Results
| | | | |
| --- | --- | --- | --- |
| Pos | Name | Category | Chip Time |
| 2012 | Steve Irvine | MV50 | 04:09:51 |