Race Date: 8th April 2018
Think Rotterdam and you may think container ships, bicycles, waffles and Heineken but the truth of the matter is somewhat different. Young and vibrant and pubs with a beer menu to savour, Rotterdam is a city of surprises although the bicycles still abound. For the Striders who ran however, pubs were temporarily off limits for, as Martin Luther put it above "What costs nothing, is worth nothing". Jennifer Rich ran a superb race to finish in 2:58:16 (2:58:10 chip). A new personal best, new club record and the first female Strider to break three hours; but this was no overnight success as this was the culmination of accumulated effort and no surprise to those who have seen Jenny in action recently.
Alongside Jenny there were fine personal bests for Chloe Haines and Alex Shepherd but for other Striders who made the trip to the Netherlands for this fast course, a quote from Burns "the best laid plans of mice and men often go awry" might be more appropriate as the unseasonably warm and humid weather (21 degrees) took its toll making for arduous conditions. One wag observed that it was great weather for spectators whilst another considered that, whilst to her everyone who ran performed well, only Jenny seemed to be happy with their performance. A shrewd observation as the word is that everyone, including Jenny who ran a negative split (a sure sign that there is more to come), would have run faster in better conditions.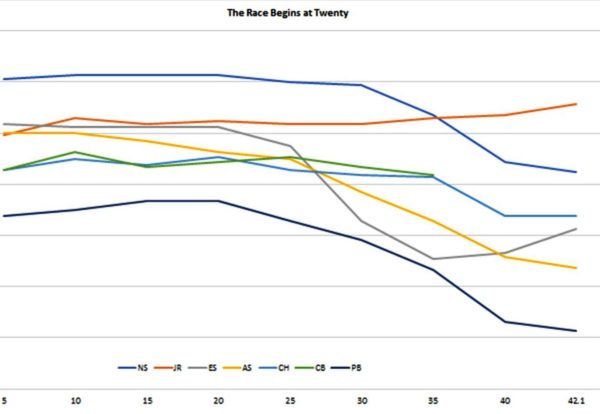 The marathon will eat you up and spit you out, even if you have done the training. This chart illustrates how difficult it is to sustain the early pace. Everyone slowed as the race progressed, except Jenny that is who sped up.Unfortunately Caroline Brock, the girl who only recently conquered the Grindleford Gallop,  got to 35k with Chloe in sight but then had to ride to the finish on a quad bike when her body declared that it had had enough. Alex pushed it as hard as he could all the way, refusing to give up and also spent a couple of hours in the Red Cross tent later on for his pleasure as medics artificially refilled his body with fluid. Both Caroline and Alex have recovered with no lasting damage done. An empirical measure of conditions can be gained from the post celebration quote "I've had my first pee in twelve hours and it's bright orange."
| | | | |
| --- | --- | --- | --- |
| Name | Cat | Pos | Time |
| Nick Scott | M50 | 237 (6) | 2:52:38 |
| Jennifer Rich | FS | 378 (29) | 2:58:10 |
| Chloe Haines | FS | 962 (65) | 3:12:20 |
| Ed Startup | SM | 1003 (344) | 3:13:41 |
| Alex Shepherd | M45 | 1022 (117) | 3:13:58 |
| Peter Brown | M55 | 2394 (81) | 3:33:34 |
| Caroline Brock | | | DNF |
Access the full results from here Rotterdam Marathon 2018 Results. A big 'What If?' for Nick Scott who, hoping to better last years London time on what is a quicker course, learned that a podium finish may have been within his grasp. At the sharp end, winners were Visiline Jepkesho (Ken) 2:23:47 and Kenneth Kipkemoi (Ken) 2:05:44. There were 13,994 finishers. On some sections, especially in the first half and for those further back in the field, it felt more congested than this.