Race Report by Tony Bell
Race date 12th May 2018
Since I returned to Sheffield in 2015 I now run for Steel City Striders. I also racewalk for Lancashire Walking Club, even though I do racewalk training with the City of Sheffield AC. The Yorkshire track championships contain a 3000m racewalk so, for the third year in a row, I proudly wore the red rose of Lancashire in the Yorkshire track championships.
The walk was the first track event of the championships, it was an early start to get there in time, this meant I missed my usual Saturday morning park run. I got my race number, good to see some of my Sheffield training partners and some other racewalk friends from Leeds. I did a mile of racewalking to warm up for the race. As this was a championship we all had to go to the call room 20 minutes before the start so our race numbers and club vests could be checked out. Then an official made the astonishing statement that "we all had to take our watches off as they give you an advantage!" Several walkers protested about this ludicrous request but we had to leave our watches behind!
We all trooped out to the start for 7.5 laps of the track. 9 of us toed the line, I automatically put my finger onto my bare left wrist to press a button that wasn't there. Off we went, it was a typical track race. I overtook some youngsters who went off too fast, I got lapped by the faster walkers. Strangely I even lapped someone myself. As it was a championship judging was strict, 2 judges waved yellow paddles to warn me that I was close to infringing the rules, but I didn't get any red cards on the DQ board. It was hard work in the last km, especially as no official split times were called out by the timekeepers and I wasn't sure how fast I was going. Over the line in 17:45.06, a little bit slower than last year. My first race in almost 35 years not wearing a watch!
I ended up 4th out of 7 finishers, one DNF and one DQ. Back to the call room to retrieve my watch, no security, anyone could have walked off with it. Then I did 1/2 mile cool down walk. I only entered this race to support the event to give the fast walkers someone to race. I don't think that I will be doing this race next year,  I was not impressed.
T01h SeniorMen 3000m Walk Final
P
#
Name
Club
Time
4
12
Anthony Bell
Lancs Walking Club
17:45:06
Full results here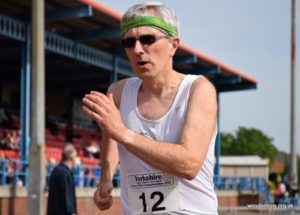 No watch but form looking good!