Race date:  Friday 17th May 2019
Report by Richard Cook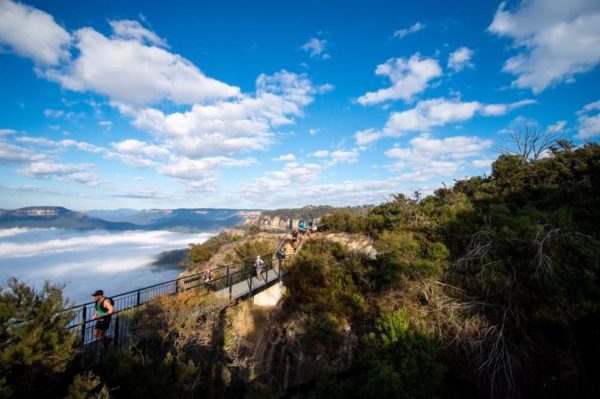 For those not too familiar with the Blue Mountains, it is a rugged region west of Sydney in Australia's New South Wales. Known for dramatic scenery, it encompasses steep cliffs (more of those later), eucalyptus forests, waterfalls and home to a full on weekend of trail running once a year based around Scenic World at Katoomba.
Formerly known as The North Face, the event has spawned into a series on races of varying distances from 100km, 50km, 22km and 11km, and sells out all 7,500 entries in 48 hours. This year after no training hardly at all, a last minute ticket came my way for the sold out event via a "friend" for the 22km race. I had done the event the year before supporting my other half and a torn calf, so I knew what I was letting myself in for. The 8km of downhill and then a 12km slog-fest up some seriously steep inclines. And a climb up 951 steps to the finish line for a total elevation gain of 1100 metres. What fun!
So two weeks after getting my "lucky ticket", I am toeing the start line in wave 3 – an expected time of 3 hours or thereabouts – it is a beautiful day, and I am pretty relaxed. I have a plan – easy on the 8km downhill, run/jog/hike the steep uphill and finish with something in the tank. Run to my heart rate – and enjoy the day. What could possibly go wrong?
Off we go and pretty soon as my Garmin ticks over the first km, I see I am going good – steady pace of 5min/km – check heart rate – no reading. Great. Well that plan went well – just keep on going – easy breathing and not getting carried away – run to feel is the plan.
So after descending at what I thought was a steady pace (note – set pb's all the way down the 8k decent) – we get to the creek crossing and the "fun" begins and the climbing starts. Why didn't I bring poles? So to condense the next 90 minutes, it involved a lot of hiking up hills, and running anything that was runnable. Which was limited at times.
The hills are like Cobnar, and with switchbacks to make them more fun, and unrelenting to boot. Meantime I have forgotten to eat a great deal, and this is catching up with me – so a few unscheduled stops are not helping my overall time.
The last 4km are a real struggle – but hauling myself up the last of the 951 steps to the finish line, cramp kicks in and I drag myself over the line in a reasonable time of 3 hours 14 minutes, which all things considered I am happy enough with. The winner crushed the course in a new record time of 1 hour 34 by Ben Duffus. A great event and very challenging, but really well organised with incredible scenery and support. Definitely one to try if you happen to be passing (and you like hills)!
Richard's results and the full results – when they're published here