A Piece of Cake Trail Half Marathon (Full Marathon of two laps available if you wanted)
Saturday 13th July 2019
Church Stretton / The Long Mynd, Shropshire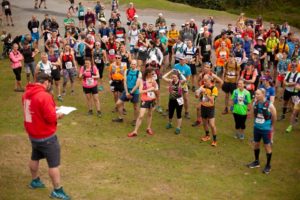 Pre-race briefing – The Northbrook AC runner next to me (starburst design on a black top) knows my son, Oliver. She likes a bit of mud at Cross Country. Genoa, Oli?
I often refer to Doreen Davies, the best mentor I've known, and her favourite prompt. She would let me describe something I'd done, and then she would simply say, 'And so…' She was skilled at the pregnant pause, turning the conversation Upside Down, and I was always a sucker for filling the void. What she torte me to do was to explain what I had done in response to what I had learned, or what I had learned from what I had done.
The venue and route for this race is Bara Brith-takingly gorgeous. The Long Mynd (or 'Long Mountain', in old Britton) is steep-sided, vast and open. Church Stretton is art and crafty. Carding Mill Valley is a Shropshire tourist honeypot and Parkin can be a problem (we used the Secondary School's field). Instructions to all runners were FRA-based – waterproof, map, compass, food and drink all to be carried, even though each of three checkpoints would supply some. Runners have gone off route in low cloud in previous years and no chances are taken, it seems. See – they learned and did in response. I did have a few Butterflys at the start as I had not done this distance on hills before.
The briefing warned of two things (but should have covered three): anyone dropping any litter would be disqualified, would receive no medal and would not appear in the results. Be an Angel, he said, and carry it to the next checkpoint. And watch out for the very steep descent on very rough ground in the last two kilometres. While we all seemed to have heard, learned and responded to the first instruction, there were still injured fallers at the finish line. (The third warning to heed should have been about the open golf course we crossed; the Tea was in use.)
Having been told that the path would narrow to single file just 100m from the start line, I dashed away to gain a 'good' position for the first walk of the day as we immediately hit a 21% gradient Raisin in front of us. There were plenty of these to come, and plenty of walked sections. There was no passing, as the person in front was walking, and so I walked too.
Up, down, up again, rubbing past the first of a million bracken fronds. I have read about ticks and did not want the Fat Rascals attacking me, and so thought about pulling up my compression socks. Didn't, but I did think about it.
Then it was past the first of three flocks of wild Welsh mountain ponies – these were grey, and not at all bothered by our passing by. I stopped and turned to check the view back across the Severn valley at about 3 miles in; beautiful, it was.
The first downhill section was great fun – a wide grassy path, perfectly suitable for childish arm-twirling and whooping, I got a bit of a Chiff(t)on – the sort of thing Rob Davies would excel at. At the bottom we reached Ratlinghope and the first farm with 'Glamping' facilities. I have mentally added it to my list of possible holiday spots. A relatively short (narrow, country) road section brought me to a déjà vu moment as we arrived in Bridges. I may have stayed at the Youth Hostel in 1979 or 1980 – it certainly looked very familiar.
The route has, by this point, climbed 274 metres and dropped 231. No Pancake flat route, this – more like Leg 2 of the Sheffield Way Relay. We were in the valley on the far side of Long Mynd and obviously would have to go over it again. Clearly there was climbing to do, and so I accepted another bit of walking would be necessary. Despite all the Sheffield hill-work this was the sensible tactic.
The sheep gathered in a farm yard pen for shearing or some such were being spooked by us, but not because of our speed! We entered the National Trust land on the hill and kept going up and up. There was a total of 2,000 feet of ascent in the Half Marathon route – doubled for the Full.
And then I went off route; Bolo! (de Mel). Stupid Bundt! How do you do this when you are basically following runners ahead on a well-marked route? At some points I could see ten ahead of me, and never fewer (not 'less') than three, but I eventually realised that the only people I could see was a set of students on a field trip, sampling in a peat bog. I saw some red tape beside the path so I kept going, eventually realising I had somehow got on the outward path and was going, quite literally, back to the start and not on to the finish! It cost me an extra mile, an additional 1.6 kilometres and 16 metres of ascent. I really must learn to keep my head and view up ahead.
Once back on the correct route I was at the head of Carding Mill valley; 2.5 kilometres of descent at an average of -11% and a maximum of -27%! It was actually too steep and, in my tired mind, too difficult to hurtle down. This was where the two injuries occurred, victims of a Blitztorte perhaps. It was challenging but hugely rewarding – Better Than Sex some might say.
And there was the finish line, complete with impressive cake-themed medal, a stream for cooling off in and a selection of cakes to refuel on. Runners are invited to bring an entry for the cake competition. My offering (chocolate chip sponge with a lemon frosting) won me a handshake of approval from the race organiser, a thrill shared with GBBO contestants from as far afield as Eccles and Oswestry.
I hugely enjoyed the trip, the race, the views, and so I will definitely go back next year. It was not cheap and would fail the classic Pound per mile test. However, I Fondant Fancy I will be there next July. Yule not be disappointed if you run it, too. A pb should be straight forward if I lean to the right rather than run straight forward at Dr Mott's Road.
(I wanted to find a way to reference the Napoleonshat cake from Denmark, for obvious childish reasons, but could work it into the commentary.)
Website:
http://codrc.co.uk/piece-of-cake-trail-race/
Facebook:
https://www.facebook.com/Codrc
Results here:
https://www.webscorer.com/race?raceid=187972
First Finisher:
Keelan Birch (Unattached) 1:39:05
First Female (9th overall):
Louisa Williams (Oswestry Olympians) 1:59:17
Only Steel City Strider out of 112 finishers:
| | | |
| --- | --- | --- |
| Name | Pos | Time |
| Stuart Jones | 31 | 2:19:59 (my slowest ever Half Marathon) |