Race date: Sunday, 29 December 2019; race distance: 8.1 miles
Race report by Matt Broadhead
I did this race backwards in the summer, when it was the Oxspring Hunshelf Amble, and I'd been looking forward to the winter version. It's harder this way round. That's mostly the result of the mud, but also because the big hurtling downhill of summer is a big muddy uphill in winter.
But to backtrack: this race is organised by Penistone Footpath Runners, who are a lovely friendly club. I ran two of their races in summer and there were very few Striders, so it was nice to see a decent turnout for this race. As our group chatted beforehand, Jennie Stevens said: "Mark Platton told me to wear mudclaws." I looked at my trail shoes and felt a little chill of fear. He knows about mud, does Mark Platton.
There wasn't time to worry though, because we were off up the hill to the start line, which is on the Transpennine Trail above where the Trunce begins. The first kilometre or so is flat and straight along the trail towards Sheffield, until the course goes left and up just before Thurgoland tunnel, crossing the trail by bridge, down a tarmac slope that looked icy but wasn't and on to the Trunce course for a bit, where we got the first mild dose of the mud. All good so far. Over a few stiles and a stretch of road though and we were on to a slippery slidy downhill track, thankfully made on a bed of hardcore under the mud, to the lowest point of the race at Tin Mill Dam.
A hairpin to the right and then it was the climb. 130m in 1k, on leaves and mud, take it steady, run where you can, just aim for the top. Left across the charming cricket club (no stopping to wait for the bowler at this time of year) and then you're into the view. Hunshelf Bank runs along the top of the valley above Stocksbridge, with cracking vistas of the hills and the steelworks (see Cara Hanson's atmospheric photo below). I was starting to feel pretty good at this stage: I haven't been racing, but most of my training has been hilly and/or muddy lately, and to around 10 miles, perfect prep for this.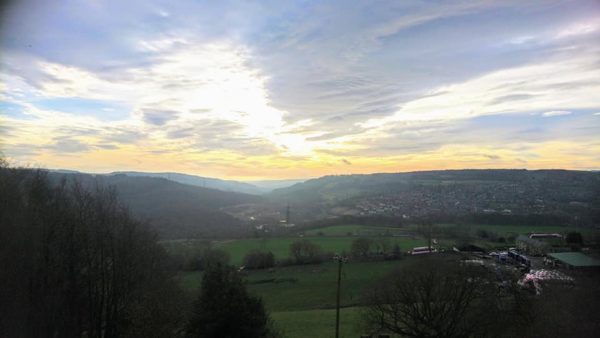 Apart from a nasty on-road climb, where I had to yell at an earbud-wearing runner to get out of the way of a car – yes, that rule is there for a reason – this part of the race is a really nice run. Undulating, not too muddy, a few gorse scratches but that's as bad as it gets. The field's nicely stretched out and you can put a bit of speed on.
Don't worry, it gets difficult again. First off is a perilous descent down a very steep and muddy field, where at least one runner came a cropper and lost a shoe. Next there's the climb up what I still struggle to believe is called Mucky Lane.
Then it's over a slippy stile into a field made of sandy glue, and an even slippier stile into another one, and another slippy stile onto a road where your knees screech at you for being a tarmac meany. But at last we turned back on to a track and I remembered it was nearly the end. Just peg it down the hill, turn left on to the last bit of Trunce, turn right, hammer it down to the bridge, under the bridge, where did this sprint finish come from, across the line, drop the first water cup they hand you, apologise, grab another one, see a Strider who seems as knackered as you are, walk up the field together, cheer the next few Striders, decide it's really time to sit down, look at the split for your last km and think: "I don't even go that fast on the road."
As for the shoe choice, I think I did okay. Fell shoes would have probably got me round a bit faster with the extra climbing grip, but my knees are hurting enough ten hours later, without doing road sections on un-cushioned soles.
The winner was Penistone's Scott Hinchcliffe, in 50:35. First woman (22nd overall) was also from Penistone: Sam Shaw, in 1:02:01.
| | | | | |
| --- | --- | --- | --- | --- |
| P | Name | Category | Time | Category Position |
| 42 | Al Cook | MV45 | 01:06:28 | 9/44 |
| 80 | Regan Hanson | MSEN | 01:12:33 | 24/39 |
| 99 | Matt Broadhead | MV40 | 01:14:59 | 13/25 |
| 104 | Nick Hails | MV45 | 01:15:16 | 24/44 |
| 105 | Stephen Clarke | MV40 | 01:15:07 | 14/25 |
| 119 | Jennie Stevens | FV40 | 01:17:18 | 5/28 |
| 121 | Nick Burns | MV50 | 01:17:54 | 20/42 |
| 147 | Kev Hewitt | MV45 | 01:20:36 | 30/44 |
| 164 | Amy Housley | FSEN | 01:24:25 | 10/27 |
| 194 | Cara Hanson | FSEN | 01:29:49 | 15/27 |
Full results: https://racebest.com/results/xvc86