Report by: Emma Connelly
Berlin Marathon 2019, Sunday 29 September 2019
It was my first marathon abroad and number 5 in total. I'd completed Manchester in April this year and set myself a goal of trying to get under 3:30.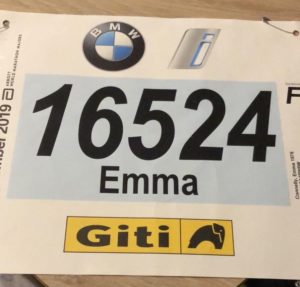 Unfortunately I got a sickness bug a couple of weeks before Berlin and the week before I had not been feeling that great, sore throat and mouth ulcers, you know the kind of thing that happens before a big race.
After not being able to find my bag drop and then not being able to get into my start pen as the amount of people also trying to do the same thing was unbelievable, I was a little bit stressed! I ended up climbing over a big fence to get onto the start line, and standing next to the 3:15 pacer made me feel a bit sick. I couldn't move! It was absolutely packed. As the gun went off for my wave I moved across to try and unite with the 3:30ish runners!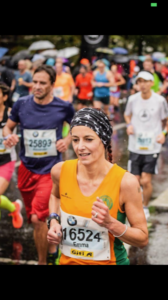 The weather was ok to start with and I set off trying to stick to pace. I became aware after about 5 miles that it was not going to be my day, I moved from my A plan to my C plan, which was try and run consistently around 8min mile pace. This is what I did. About half way the rain started to come down, not just down but sideways and upwards too! There were parts when I had to close my eyes as it was raining so hard.
Eventually after being tripped and shoved through 40KM the Brandenburg gate came into sight, but it's not quite over.. No another few hundred meters to go. I finished shivering with blue lips and hands, in 3:32:40. No PB but a very consistent run with both half marathons in 1:46 ish. Disappointed but pleased to have run and finished consistently.
I'm not sure I would rush back to be honest, it's a very flat race, but so busy and in those conditions not very enjoyable, if a marathon can be enjoyable?! Berlin probably not looking at it's best with the weather either!
Roll on London 2020!
 Results
This fast course saw another exciting race with the winner missing last year's winning (and world record) time by 2 seconds.
Winners
Men: Kenenisa Bekele  (ETH) in 02:01:41
Women:Ashete Bekere (ETH) in 02:20:14
Emma was the sole Strider out of 44,065!! finishers, the 1064th lady out of 13291 and 178th in the W40 category. Well done!
| | | | |
| --- | --- | --- | --- |
| Name | Time | Cat | Cat Pos |
| Emma Connelly | 3:32:40 | W40 | 178 |
Link to full results here.