Report by Stuart Jones
Race Date: 4th August 2019
Billingham 10k (The 33rd Ray Harrison Memorial, by Marsh House Harriers)
The one where I try not to use any subordinating clauses.
It is billed in the Race Best website listing as 'undulating' but that is just nonsense. Billingham is the less well-known neighbour of Stockton on Tees and being across the river from Middlesbrough. No-one from anywhere else can place 'The Boro' on a map but all know it as 'Smogville'. Billingham was a Viking settlement and is on the edge of expansive marshlands beside the Tees estuary. Nowadays chemical works and the second-most famous bridge built by Cleveland Bridge dominate the skyline. The only uphill gradients were the two railway bridges that we crossed twice.
I was back to run this one after a gap of nine years. I shredded a calf muscle back then at halfway and limped to the finish line. I was looking for a significant improvement in my course pb!
The race started and finished at Billingham Rugby Club. I had experienced sporting success here a few years previously when I coached my Year 5 Tag Rugby team to tournament victory. I won't tell you about how the Year 6 team got on. The start and finish lines have shifted a little since 2010; it was amusing to see faded but visible markings in the road of the previous km positions.
The field was male-dominated with only 32 female runners out of a field of 161. I was not confident of a high finishing position for this and reasons related to my recent running activity: I was tired after the Osmotherley Show Fell Race the afternoon before.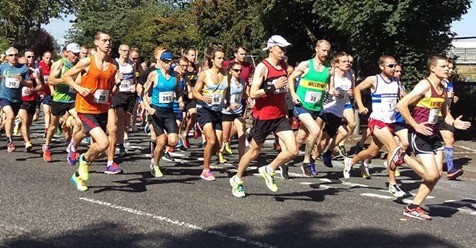 The route is a flat small loop followed by a flat large loop. My regular reader might remember me once writing about the inverse relationship between the prettiness of place names and their actual appearance? On the route is Greenwood Road (no wood), Synthonia Sports Club (no orchestra), Haverton Hill (no hill), Port Clarence (cheapest housing in the country), Cowpen Bewley (actually a really interesting farming village) and KP Snacks (part of the Intersnacks Group) factory.
Yohannes Eyob (New Marske) won and knocked off the distance in just 32:53.
Stuart Jones (Steel City Striders) finished 68th in 47:15 (a course pb of over 26 minutes!)
Tracy Millmore (Birtley AC) was first female and 13th overall in 37:20.
Link to full results here.
It was a wonderfully warm day and for the third race in succession I was horribly hot at the finish. I sought out shade to cool down for a long time after and then enjoyed the banana, Wacko bar and bottle of water in the paper goody bag. There was also a nice red tech-tee that I will wear this week on a Club run.
I went for a cup of tea in the Clubhouse and managed to leave my wallet behind when I left. That would be the yang to the yin of the race itself.