Race Date: 18th August 2019
Report by Tony Bell
In August 1984, just after I graduated from University of Sheffield, I ran the first Birchwood 10km. The race is organised by Spectrum Striders Running Club who became my first running club. Yesterday I went back home to Warrington to run the 36th Birchwood 10km. I reckon I have either run or volunteered at 31 of these races.
After injuring my right knee at the Sheffield half marathon in April I knew I wasn't that fit. I was hopeful of running sub 48 minutes. My plan was to get to halfway in 24 minutes (24.08) and then speed up in the faster second half of the course. Unfortunately the plan didn't work, it was a struggle to maintain the speed, especially at the end. Eventually over the line in 48.25 (48.10 chip). In 1989 I ran this race in 38.47!
Still it was good to go home and support this excellent race (nearly as good as the Percy Pud!) I saw several old running friends at the race and then got to visit with family afterwards.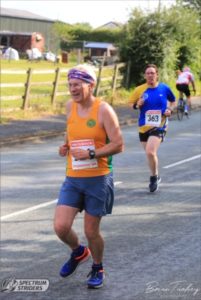 913 finished race, with one Strider in the pack. First man across the line was Nigel Martin (Sale Harriers) in 30.30. First woman was Eleanor Jones (Liverpool Pembroke and Sefton) in 36.39.
Striders Results: