Race Date: Sunday 14th 2019
Race Report by: Frances Roberts
Despite being a runner, I am also inherently lazy so decided to pick Brighton as my first marathon as my Auntie lived half a mile from the start, therefore requiring minimal travel planning and maximal pre-race time in bed. You are required to pick up your number on the Saturday before, so I enjoyed a day wandering round the event village at the seafront and hoping not to tempt fate by purchasing a 'Brighton Marathon 2019 Finisher' hoodie.
After a very respectful wake up time of 7.45am I jogged down to the start line. The weather was cold but sunny- perfect running conditions. The start was very well organised and it was easy to find the correct pen, where we all performed an energetic mass warm up to the sounds of Queen. I settled in behind the 3.15 pacer who was clearly marked out with white helium balloon, adding to the party atmosphere; however the mood soured slightly when an unruly gust of wind caused said balloon to hit me round the face 50 metres in.
Despite everyone's advice to 'start slowly' I found myself swept up in the novelty of running on a flat surface and went through the halfway mark in 1.33. Having enjoyed numerous orange slices and helpfully signposted vegan jelly sweets from various passers by, I was feeling fantastic by mile 18 and was happily giving away high fives to any enthusiastic children spectating.
However by mile 20 the sugar rush had faded and I experienced the infamous wall. I desperately tried to distract myself by pressing play on my headphones (sorry Pete!) but even some classic 90's pop couldn't stop me from slowing down by a minute per mile. The 3.15 pacer came up behind me with his balloon bobbing like some sort of sinister clown and it was all I could do to fend him off as I crossed the finish line.
Overall I would really recommend the Brighton marathon if you like a course with brilliant crowd support, numerous witty signs and a faint smell of fish in the last few miles as you come back along the seafront.
The only negative would be the paper cups at the water stations. Although more environmentally friendly than plastic bottles, uncoordinated runners (me) end up throwing the entire cup over their face. This may be nice and cooling, but is less conducive to maintaining hydration / stopping your eye makeup from running.
Despite this, I fear I have been bitten by the marathon bug and will definitely be looking to return next year (wearing waterproof mascara).
The men's race was won by Peter Le Grice (Penzance) in a new British course record of 2.16.23 and the women's race was won by Helen Davies (Ipswich) in 2.34.08. Full results can be found here.
Striders results
| | | | |
| --- | --- | --- | --- |
| Pos | Name | Category | Time |
| 210 | Sam Needham | MSEN | 03:04:06 |
| 433 | Frances Roberts | FSEN | 03:14:50 |
| 7575 | Jay Stocks | F45 | 05:02:58 |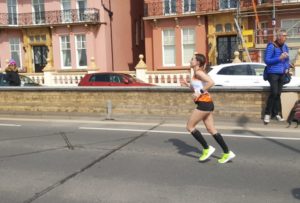 Frances showing good form on the streets of Brighton