Event hosted by Dark Peak Fell Runners at Derwent and Howden Moors
Race date: 19 October 2019
Race report by Andy Buck
244 teams started this year's British Fell Relays; among them were five Striders teams – the most we have ever sent to the relays. The day began with low cloud scudding across the tops and occasional drizzle, but soon brightened up into a perfect warm and sunny afternoon. The event centre was on the rough field under the Derwent Dam Wall, which was a cascade of water from the brim-full reservoirs. The four legs followed routes on the Derwent and Howden Moors, including some of the paths we use for the Salt Cellar Fell Race.
Leg one, for solo runners, started on the track just to the east of Derwent Reservoir in the Upper Derwent Valley, and followed a clockwise route to Lost Lad, south across the open moor, a steep descent and then ascent, and a last fast descent to finish.
Leg two, for pairs, headed to Lost Lad, then north into Abbey Brook and up to Wet Stones (which is just south of and only 3m lower than Sheffield's highest point, the aptly named High Stones), a fast descent to the mouth of Abbey Brook, and then back up onto the moors before a similarly fast finish.
Leg three (map below), also for pairs, is the navigation leg – the map is not issued until runners start, who then have to choose their route to each of the controls, taking care not to cross any uncrossable boundaries (walls and fences) or enter any out of bounds area. This leg was a real test of route choice and stamina, with seven controls, including two to the north of Abbey Brook, and featured a glorious 50m bum slide into the brook after these two controls.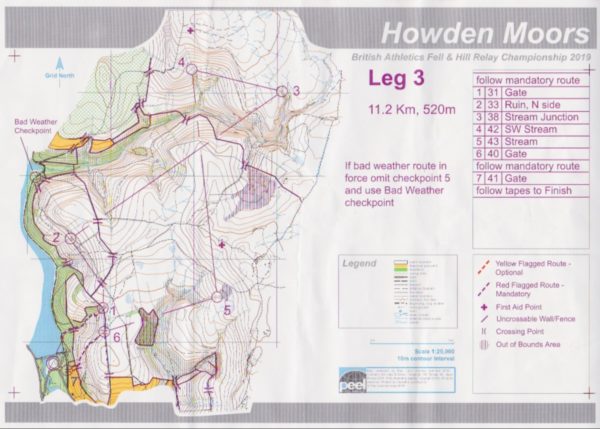 Leg four, for solo runners, followed an anti-clockwise route, with the second half following, albeit in reverse, the same path as we use for the Salt Cellar race.
224 teams finished, including all five of our teams. The winning teams and times in the main race categories are shown below, along with details of our teams, finishing positions and times. We had a really great day, including the cycle, jog or walk to Fairholmes from the A57, and with hugely creditable performances all round.
Pride of place goes to our Open Women A team (the Steel City Shiners) who finished an excellent 16th of 49 complete teams, with four teams that did not finish.  Our women's B team finished 45th, which given it comprised mainly veterans was a commendable result.
Our Open Men finished 63rd of 80, with nine dnfs – again, just one of this team was not V40 or V50.  Our V40 men were 26th of 34, with 4 dnfs, and our V50 men were 15th of 18, with 3 dnfs. It's worth noting that had the V40 and V50 categories been combined, the results would have looked a tad better!
Dark Peak Fell Runners began planning the relays three years ago. The event was brilliantly well organised. Many thanks to all concerned.
The 2020 relays are, we understand, being organised by Helm Hill Harriers, who are based in Kendal in the South Lakes. It would be great if we could turn out a similar number of teams next year.
Full results are here: https://www.sportident.co.uk/results/darkpeak/2019/britishfellrelay/
Team
Time
Finishing position
Leg one
(7.65km/360m)
Leg two
(12.3km/484m)
Leg three
(11.2km/520-570m)
Leg four
(7.85km/375m)
Keswick AC open men
39:43
01:01:00
01:20:17
39:33
03:40:33
1st
Calder Valley V40 men
43:30
01:07:41
01:30:50
44:53
04:06:27
14th
Dark Peak V50 men
47:38
01:14:17
01:32:08
52:44
04:26:27
32nd
Helm Hill women open
45:03
01:17:08
01:41:56
50:06
04:34:13
46th
Dark Peak women V40
53:39
01:23:59
01:54:05
56:16
05:07:59
95th
Helm Hill women V50
01:00:09
01:40:41
02:00:52
58:26
05:40:18
148th
Striders team
Leg one
Leg two
Leg three
Leg four
Time
Runners
Runners
Runners
Runners
Finishing position
Time
Time
Time
Time
Leg position
Leg position
Leg position
Leg position
Open men
Nigel Barnes
Louis Wood
Joe Buckman
Ben Clithero
05:10:09
Luke Desforges
Simon Bayliss
102nd
52:09
01:32:24
01:45:49
59:37
108th
138th
87th
132nd
Open women
Harriet Davies
Sian Evans
Fran Cummins
Rosa Sampson-Geroski
05:34:14
Gill Allen
Jo Taylor
135th
01:02:38
01:30:38
01:58:32
01:02:06
196th
125th
135th
159th
V50 men
Mark Platton
Will Day
Andy Buck
Phil Howson
05:38:52
Nick Kirk
Rob Davies
145th
01:00:06
01:35:13
02:00:44
01:02:49
173rd
153rd
144th
162nd
V40 men
Craig Baird
Russell Stevenson
Nick Burns
Dean Young
06:01.1
Matt Broadhead
Ian Stinson
172nd
57:45
01:52:43
02:12:48
57:56
153rd
215th
183rd
116th
Open women
Jeni Harvey
Amy Duck
Alison Barrett
Clare Trevitt
06:56:19
Pippa Powell
Jill Davies
215th
01:11:24
01:49:28
02:52:32
01:02:55
229th
204th
226th
163rd