By Mark Norman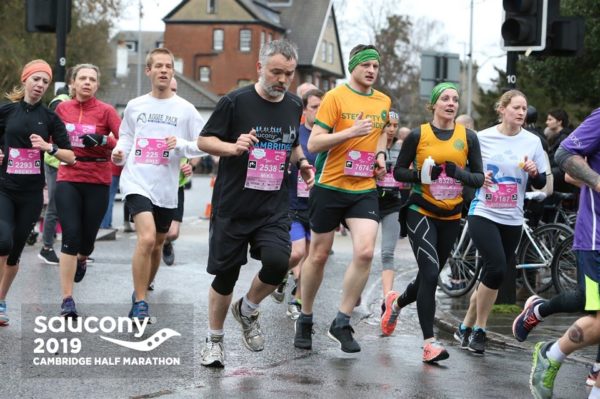 Sunday 3rd March, 2019
Not a local race by any means, but past connections and family in the area made this a great opportunity to enjoy a flat and speedy course around the historic city of Cambridge. Just over 8,000 starters made the start at Midsummer Common in the centre of the city. The weather was cold and wet, but there were super-efficient bag drops that meant it was very easy to hold onto any jumpers until the last moment!
There were three Striders in action, couple Mark Norman and Paula Risby along with Charlotte Civico.
The race starts with a long loop around the city centre passing along narrow cobbled streets and past many of the University buildings before heading south out towards Trumpington, then a right onto Grantchester (apparently suffers from regular mysteries…) before looping back into the city centre. Support along the route was excellent, particularly in the city centre,but many people had braved the weather along the country lanes to cheer runners on.
The first male runner home was Michael Kallenberg of Cardiff AAC in a time of 1:06:40. The first female runner home was Victoria Knight of Cambridge and Coleridge AC in a time of 1:17:20.
We chose to run together and were actually unaware of any other Striders in the race until Charlotte steamed past us with 2km to go!
We can absolutely recommend the race to fellow striders if you're able to get a place. Extremely well-organised, flat course and great support, the free isotonic Erdinger at then was the icing on the cake!