Report by Steve Haake
Race Date: 16th June 2019
In recent years, I've done various races in and around Cheltenham as it gets me out of the house when we're visiting in-laws.  These races tend to be well run, the people are nice, the crowds are nice and the weather is generally nice.  Even the parkrun in Cheltenham is the Andrex Puppy version of all parkruns: the run briefing regularly brings a tear to the eye.
The Cheltenham Challenge is Cheltenham's attempt at roughing it up a bit.  With three routes to choose from it attracted 292 for the half, 507 for the 10k and 200 for the 5k.  I chose the half (better value for money).
It started at the magnificent Cheltenham Racecourse.  No fighting over two toilet cubicles in a club hut, this had toilet blocks ready to cater for thousands of punters desperate for their next Prosecco and flutter on the horses.  The race set off at 9am down side of the old railway line, (I heard the 11am steam train hooting) and then around the outside of the race course, out onto roads and through the pretty Cotswold village of Prestbury.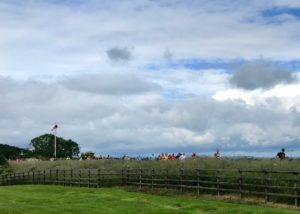 I started at the back and quickly found myself not far off the front, and then right at the front when the marshals sent us the wrong way and I found myself face to face with the leader coming back from a dead-end.  We ran as a melee of about fifty until we hit Cleeve Hill.  This is where it got tough: three hundred metres straight up a muddy track with a stream where the path ought to be. Suddenly you were out onto the top and into the light.  Instead of peat and heather they had green grass and, guess what – a golf course!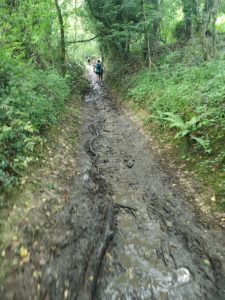 Along the ridge with magnificent views and then straight back down through Queen's Wood in truly treacherous mud, as hard as anything I've done in the peaks.  Then it was back to the finish at the race course with a time of 1 hr 57 mins and a bit.  Surprisingly, I came in 8th and was 2nd male over 50.  I reckon a decent Striders turnout would bag all the prizes!

It was well organised, regular drink stations, water in paper cups (no plastic); one stop even had melon slices.  It was a great race with all profits going to charity. And guess what?  It was really nice.
Winners:
Samuel Hart (unattached) in 1:50:48
Sophie Hope (Gloucester AC) 1:56:29
Link to full results here.
| | | | |
| --- | --- | --- | --- |
| P | Name | Cat | Time |
| 8 | Steve Haake | M50 | 1:57:17 |