Report by Stuart Jones
Race Date: Sunday 24th March 2019
The Knife Angel is a monumental sculpture, fashioned from 100,000 knives handed in through amnesty collections. Artist Alfie Bradley and the staff at the British Ironworks centre in Oswestry (scene, two years ago, for a previous Half Marathon PB) wanted to create something that would grab attention and bring the issue of knife crime to the front of society's consciousness.
Runners in Coventry this weekend were greeted by an animatronic giant Godiva and the twenty-seven feet tall Knife Angel. It is on temporary display in front the old Coventry Cathedral. It is powerful and awesome and horrific and wonderful all at the same time.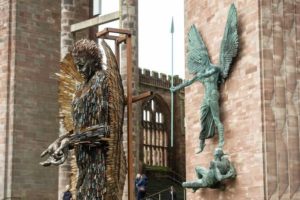 Three Striders ran the Half this year. We were there because:
Maz Kaczmarczyk met his wife there, back in the day,
Emma Nicholson had agreed to run it one tipsy night with friends who live down that way,
and my lad Oli lives in Coventry.
Not everything in Coventry is steel-reinforced concrete or brutalist in design. The route quickly takes runners out to lovely villages and delightful countryside.
It's a pretty flat route – climbing just 90 metres over a distance of 11 kilometres, before the descent back to the city centre. Nice little finish – 40 metres of unexpected cobbles.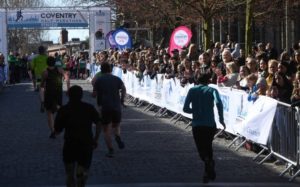 The runners were friendly and chatty (they get little choice with me, I suppose), though the locals didn't respond too well to by urging them to sign a certain petition on gov.uk (that one, the one with 5 million plus signatures). We talked about cross country, the HS2 route, UTB, football club allegiance, which is the best local running club, losing weight after having kids, missing bins with discarded water bottles, poached versus boiled eggs, the MC, the weather (well, I am British!).
The finish funnel and goodie bag hand out was a tad confused as there was no bag – you got your medal draped round your neck, stepped to one side for a sky-blue t-shirt (UTSB!) and took a nice energy bar from a box and that was that.
I will run it again – to see what I can do when I haven't wrapped up one heel in KT tape, elasticated bandage, constriction socks and a new pair of running socks over the top! I sort of ran it on a foot and a half, but my foot feels better for it.
Results:
Steel City Striders
| | | | |
| --- | --- | --- | --- |
| 584 | Maz Kaczmarczyk | M40 | 01:40:55 |
| 861 | Stuart Jones | M50 | 01:46:41 |
| 987 | Emma Nicholson | FSEN | 01:49:18 |
Winner:
1              Chris McGurk                     01:08:31               Notts AC
First female:
43           Kelly Edwards                    01:21:27               Leamington Cycling and AC
3,215 finishers, of whom 1,204 were women.
Full results here.