Race date: Saturday, 17 August 2019
82 miles is quite a long way, so hopefully this report won't end up quite as long.
Short version: a celebration of the 50th anniversary of the Dales Way – a long distance path from Bowness-on-Windermere to Ilkley in West Yorkshire, organised by Punk Panther Ultra Marathons.
I chose this race as one of the main targets for 2019. Whilst the distance was significantly further than I'd done before, with elevation of just over 2000 metres over 130-odd kilometres the terrain was likely to be pretty runnable although that would prove to be a challenge in itself. I'd had good memories of the latter half of the race down Wharfedale from time living in Leeds, and I liked the idea of running (sort of) home back to Yorkshire.
After a night in an AirBnB near Kendal (the day before had constantly poured with rain), we had a short drive to the shores of Windermere for registration and a fairly leisurely start time of 8.30am. After a short briefing and faffing with trackers, the first few miles were gently undulating footpaths interspersed with countless gates and stiles meaning there really was no point trying to get a fast start. 127 people made it to the start line so the field spread out soon enough and I headed off in around mid-pack for the first section.
The checkpoints were more or less 10 miles apart and the first two came and went without any dramas, and by 20 miles I found i was regularly passing people who had made fast starts. I ran with various groups and chatting passed the time nicely. Just after crossing the M6 motorway I made a bit of a nav-error by missing a footpath and heading off the wrong way up the River Lune. I realised the error fairly quickly but not before I'd lost a couple of places and about five minutes. The section from Kentmere to Dentdale was the only bit I didn't know particularly well and the scenery was great – rolling valleys, rivers and the occasional impressive bit of architecture.
I reached CP3 in Dent at around 30 miles in just over 5 and a half hours – as I came in I was told I had just caught up with sixth and seventh place overall. I had reccied the next section given it was probably the hardest and most remote stretch over the moors into Ribbledale. Given the rain the day before the underfoot conditions made the moorland section past Dent Head viaduct a bit of a slog, but it was comforting to know my drop bag with some spare kit together with a hot meal was waiting at the halfway checkpoint, just up the road from Ribblehead viaduct.
I was conscious I had probably lost a bit of time on the previous leg, but took the opportunity to get a good amount of real food on board as I knew eating was only likely to get more difficult as the race went on. After a proper refuel (cottage pie and a big mug of tea), I set off on the climb up Cam High Road to the high point of the race at the junction with the Pennine Way. A long descent (including a quad-draining 20% downhill road section) followed into Wharfedale. Whilst the route more or less followed the River Wharfe from Buckden all the way down to Ilkley, there were still at least 35 miles to go at this point. By this stage I had overtaken fourth place, but knew Helen Pickford from SRC wasn't far behind and seemed to be having a very well-paced run.
A quick stop into Buckden CP to catch up with Helen B (on above-and-beyond crewing duties all day) and I was back on the way down Wharfedale. I had been caught by Helen P by this point and we ran through Kettlewell together, avoiding the scarecrows which were out for the village's annual festival (seriously – I was glad to have company on this section. Have a look at some of these and tell me you'd want to encounter these in the evening gloom after running for approaching 12 hours: http://www.kettlewellscarecrowfestival.co.uk/gallery.php).
The route headed up out of the valley briefly after Kettlewell onto open moorland as darkness began to close in. Helen had reccied this section which was helpful as the paths became pretty indistinct by headtorch. The Strava flyby made for interesting reading afterwards, but I think we took a pretty good line for the most part. The main diversion was for a herd of cows who had set up camp across the path and didn't look like they'd take too kindly to two headtorch-lit runners disturbing the peace.
I was starting to struggle to get enough food in by this point – solid food wasn't really proving appetising and I was relying more on my Mountain Fuel drink and whatever gels/blocks I could get in. Nutrition is definitely the biggest challenge I have found in stepping up to ultra distance events and I'm really not sure I have cracked it just yet.
A nice runnable descent into Grassington and through the village followed to get to the penultimate checkpoint. I knew the rest of the route was almost entirely flat now but I was struggling to muster the energy to run for any prolonged periods.
CP6 was the last I saw of Helen P until the finish and, in the knowledge that I was a decent distance ahead of sixth place, I resigned myself to a lonely run out into the night. Looking at the finishing times, the next section to Bolton Abbey was where I lost a lot of time on those around me – probably a combination of mental and physical tiredness and there were several parts where it was necessary to "have a word" with myself to keep the feet moving.
The Bolton Abbey checkpoint came and went and it was just the final (and shortest) leg to complete. Eventually, the lights of the finish at Ilkley Rugby Club were visible, although in a cruel twist runners were required to go 400 metres past the finish to the official end point of the Dales Way, before doubling back to complete the race proper.
I came in at 2am exactly, finishing the 82 mile course in a time of 17:26:13, good enough for fourth male and fifth overall. By comparison the winner, Keith Wigley ("fresh" from a sub-17 hour Bob Graham earlier this summer) completed the course in a fantastic 14:35. Helen P was first woman in 16:59.
In total, an impressive 109 finished of the 127 who started.
Writing this a week later, there a quite a few positives to take, not least how comfortable the first 40-50 miles had felt. My immediate thought is not to rush back to do any super-long ultras (i.e. 100k+) any time soon, but let's see how the feet recover and watch this space…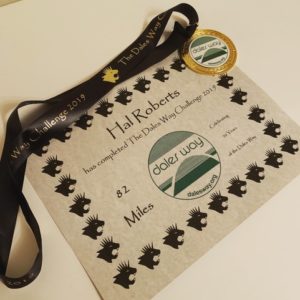 Striders result