Race date: Sunday, 9 June, 2019
Race report by Fiona Tweedie
The Devil's Foot half marathon is a 22.5km trail race from Lauder to Melrose, largely along the Southern Upland Way, organised by Trail Outlaws. The "Devil's Foot" is a mark in the rock beside the Tweed at Melrose.
This was the first year that this race has been run. I'd really enjoyed the Wooler Trail "marathon" (28 miles) last November with the same organisers, and it fitted in well to my training schedule for the 100km at the end of the month. It also gave me a chance to look at the end of St Cuthbert's Way. However, I'd spent the last couple of days canoeing, wild camping, and climbing Suilven in the north-west Highlands which probably wasn't the BEST preparation.
We registered in Melrose Rugby Club and were then bussed north, up to Lauder. Race briefing complete, we headed up the hill from the town on to the Southern Upland Way. The course was a mixture of path, land rover track and a bit of road, through beautiful Borders countryside.
I'd planned to "jeff" at run 60s, walk 30s, but the course was very undulating so it became more of a run with the terrain – walk up the hills, run down the hills, jeff the flats. There were frequent aid stations (well, I thought they were frequent, being more used to one every 10k or so) with water, cola and jelly babies. I made the mistake of thinking "Oooh, look! Red cola and jelly babies!!" at the first one and drank two cups of red cola before remembering that I'd planned to skip this aid station. Cue a pile of cola sloshing around my stomach for the next 20 minutes. Oops. Must stick better to my race plan!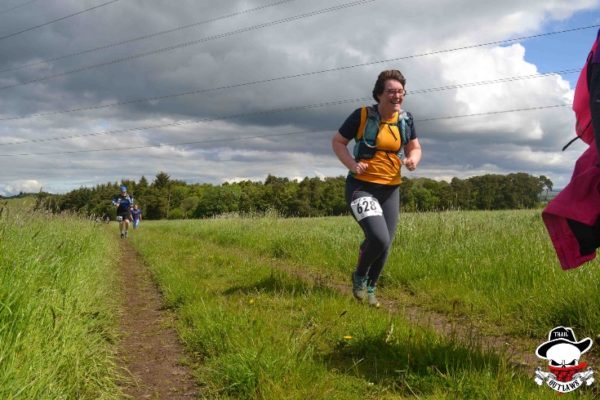 It seemed like a lovely run down towards Melrose – great views across to Galashiels and the Eildon Hills, and we met the last checkpoint at the bridge over the Tweed. A lovely flat open run beside the river came next, all under the eastern Eildon hill, which (this time!) I knew we had to climb and descend before the finish.
Then it happened. Turn away from the nice flat riverside path and start climbing. And climbing. Under the main road, then more climbing. Then there were strange builders' bags of rubble and sand. Then more bags. So they're about to start doing path maintenance next week….
THEN we met the extra obstacles on a hill that was just getting steeper and steeper – boulder fields! I'm guessing a helicopter or something had been dropping off bags of boulders (well, rocks up to a foot across) for the path construction. Except they were ankle-breaking, loose, and completely covering the path in four or five places. All thoughts of time or running went out of the window as we struggled to progress up the hill!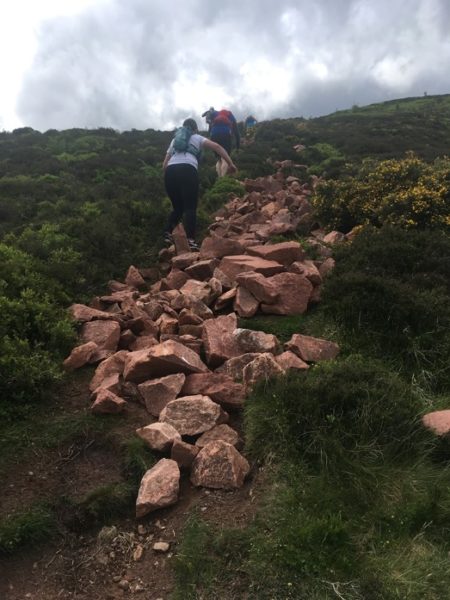 I can safely say I've never been so glad to get to the top of a hill and meet the mountain rescue team land rover! Shortly afterwards a runner in front of me took a fall and I asked if he wanted me to go back up(!!!) to find them. He thought he was OK, and indeed shot past me in a little while. The path down included such obstacles as a bulldozer(!!) and freshly made paths – all a sticky red clay after the recent rain. So much for the lovely undulating run in the countryside!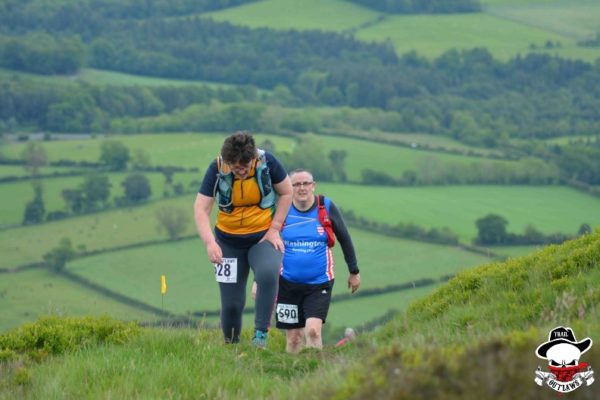 At least I was now on the object of this run – the end of St Cuthbert's Way. I'd taken a bad fall on my recce two weeks ago and bailed out about 15k short, so it was great to see the little way markers again. The path was more technical than I'd expected, and had ANOTHER steep uphill section, before mercifully heading in to Melrose on a boardwalk section that could be quite slippery.
We skirted the centre of Melrose, back to the rugby club, to be awarded a beautifully detailed medal showing Melrose Abbey and a Tshirt. I waited to cheer in a couple of friends who finished 5 minutes behind me. There were great soup and sandwiches on offer, then time to head back north to Edinburgh.
The winner was Dessie Flanagan in 1:39 (didn't he do the hill???), first woman was Jenny Durkin in 2:01. There were 112 finishers.
Striders result:
| | | | |
| --- | --- | --- | --- |
| P | Name | Cat | Time |
| 84 | Fiona Tweedie | F40 | 3:24 |
Full results here.