Race date: Saturday, 1 June 2019
Report by Amy Duck
The Long Duddon is a classic fell race covering 18 miles around the head of the Duddon Valley with 6000ft of climb over Harter, Hardknott, Little Stand, Swirl How, Dow Crag, White Pike and Caw.
The Duddon Valley is one of the classic Lakeland fell races and I'd been looking forward to exploring some new fells in the lakes….. or not as the clag would have it! The jog to the start wound through some pleasant woods and I felt a little nervous looking round at the other sinewy, knarly, 'proper'-looking fell runners in vests and shorts at the start. After a briefing we had no chance of hearing (sensibly stood near the back), the start was signalled by the blowing of a whistle and we all set off. The first ascent was gentle, and I was overtaken by Nicky Spinks fresh from her double Paddy Buckley Round. We climbed up into the mist on Harter Fell and that was pretty much it for visibility for the rest of the day. We stuck with a small group of runners across rough open fell, glad not to be leading the group up front and risking being the human sacrifice to the Bog God. We crossed a road section and by the time we had refilled our water bottles, the group had gone and we were on our own, on open fell, in rain and thick clag. Matt took lead map-reading responsibilities, carefully checking bearings and lines and taking our time to make as sure as we could we were going the right way – time well spent by looking at the Strava flybys of the Duddon clag chaos later that evening! I learnt some valuable experience in how to follow a map, not just read it, and how to orientate yourself in bad visibility. Luckily by the time we got to the last climb, the clag cleared and our efforts were rewarded with some stunning views down into the Duddon Valley, it bordered on sensory overload having focused on a small square of map, a compass and clag for about 4 hours! We descended down into the finish and saw Joss Naylor, I was way too star struck to speak to him so I just grinned at him like a maniac and he gave me a nod!! This just rounded off the day perfectly, a real experience of Lakeland fell running, navigating and ever resilient marshals out at the checkpoints. We finished off the day by pitching up camp and heading into Keswick to cheer in a successful BG runner to the Moot Hall.
127 runners entered the race with Rhys Findley Robinson (Dark Peak) leading the men in 2hrs59 and Bryony Halcrow (Harrogate Harriers) leading the ladies in 3hrs55. Matt Williams and Amy Duck represented Steel City and finished 114th and 115th in 5hrs 43. There were 10 DNF's.
Full results: https://fellrace.org.uk/races/duddon/2019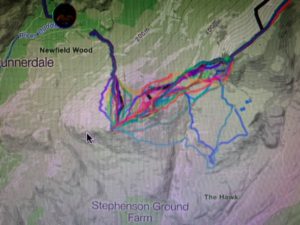 Strava tells the tale of Duddon valley clag chaos