Race Date: Saturday 14th December 2019
Sorry this report is nearly as long as the Marathon. After my Grandma lost her battle to Bowel Cancer I decided I would do a Marathon in her honour and to help raise funds for Bowel Cancer UK.
Grim up North had offered me a free place in the Elsecar running festival so I picked that as my Marathon. This was to be my second marathon, I did York last year.
The marathon route was 4 laps, an out and almost the same back section along the TPT, then through the Heritage centre, then through Elsecar Park and around the reservoir. Most of the route was off road, with just a short road section and two small hills.
Training had gone OK, well I managed to get the long run's in but felt I didn't do enough in between, I did the same as last time and did two runs a week with a bit of cycling, yoga and pilates for strengh.
Marathon day arrived, the weather forecast didn't look great, high winds and sleet.  I arrived at the start with Regan who was supporting and joining me for the last lap. I registered and sat in the pub with Rosie and Shane until 5 minutes before the start.
After a quick briefing we were off, I didn't have a special time in mind, I knew it would be slower then my first and would have been happy with anything between 4 and 5 hours. I set of at comfortable pace and just followed everyone else, the track was pretty narrow so we ran In single file. As soon as we got onto the TPT we were greeted with mud and puddles this was going to be fun. After turning round to head back, we were hit with a horrible head wind, I struggle in the wind with my asthma so  I wasn't happy about this.
The first two laps went by quite quickly, but I was having trouble with my leggings falling down and after the end of two laps I'd had enough and decided to take them off (I had shorts underneath), I saw Liam Russell and leant on him whilst taking them off, apologies Liam.  The third lap was pretty tough, the wind was picking up and there was rain in the mix. The lap thing got to me mentally, as I knew what was coming, where it was hard and knew I had to do it two more times. My pace slowed as breathing became harder. I was looking forward to running the last lap with Regan and it couldn't have come at a more perfect time, I was starting to have my first experience of 'the wall' as I was struggling with my asthma and was getting really hungry. I thought 6 gels and Soreen would be enough, as it was last time, but the terrain and weather meant I was using more energy and it was the first time I ever craved roast potatoes whilst running.
Regan was an absolute star helping me round that last lap, especially when the horizontal sleet came and I couldn't see. He was being all positive and motivating while I was chatting crap. He gave me his gloves as my hands were numb with cold and he didn't even shout at me when I walked (extra hubby points for him) . The the finish line was in sight (again), so we held hands and Regan dragged me across the line. The biggest shock was being handed a trophy with first lady on it, first out of seven but still first.
Grim up North do fab races and Elsecar is lovely but I'd definitely recommend the shorter distances, I mean who wants to do four laps unless you're hard core?
I have now decided that my next marathon will be on the road, in milder weather and absolutely no laps.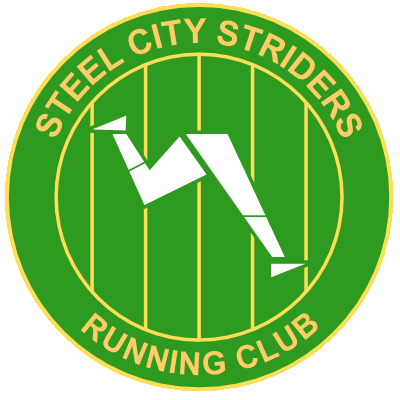 Half Marathon Strider results:
| | | | |
| --- | --- | --- | --- |
| P | Name | Cat | Time |
| 19 | Tracey Davies* | F | 01:55:23 |
| 24 | Richard Pegg | M | 01:59:40 |
| 25 | Stuart Jones | M | 01:59:40 |
| 50 | Clive Downing | M | 02:14:44 |
| 89 | Laura Fletcher | F | 03:14:44 |
* 3rd lady finisher; Laura's time is probably wrong….
20 mile Strider results:
| | | | |
| --- | --- | --- | --- |
| P | Name | Cat | Time |
| 8 | Rosie Smith | F | 03:57:32 |
Marathon Strider results:
| | | | |
| --- | --- | --- | --- |
| P | Name | Cat | Time |
| 10 | Cara Hanson** | F | 04:29:29 |
| 12 | Shane Porteous | M | 04:34:35 |
** 1st lady finisher
8k Striders results:
| | | | |
| --- | --- | --- | --- |
| P | Name | Cat | Time |
| 10 | Michael Watson | M | 00:45:38 |
6.7 mile Striders results:
| | | | |
| --- | --- | --- | --- |
| P | Name | Cat | Time |
| 2 | Regan Hanson*** | M | 00:48:22 |
| 11 | Steven Lewis | M | 00:55:34 |
| 12 | Phil Dooley | M | 00:55:34 |
*** 2nd male finisher